If you build it, they will come.
On January 20, 2009, while the rest of Chicago was celebrating the inauguration of President Obama, a small band of hardy theater enthusiasts, drawn together by a lot of yellow flyers posted by Paul and Rachel Baker, met to discuss the question, "Does Hyde Park need a community theater?" Having agreed on the answer, they went to work.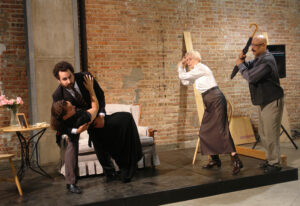 With nearly no money, a barely-there set, just enough people to fill out both casts, and costumes salvaged from the actors' own closets, the HPCP mounted its first production in the Experimental Station in June 2009. It consisted of two one-act plays: J. M. Synge's Riders to the Sea (directed by Paul Baker) and Anton Chekhov's The Bear (directed by Corinna Christman).
Each new show drew in new Players with new skills and resources. We graduated from one-act to full-length plays in June 2010 with Murder, You Must Be Kidding? (directed by Terrie Vasilopoulos). That winter, Antigone became the first show we staged in the round. Our triumphant production of Steve Martin's Picasso at the Lapin Agile in June 2011 scaled new heights in terms of set design, lighting, and visual effects.  That summer we also launched our first Shakespeare Boot Camp, an annual workshop on performing Shakespeare which prepared us for our first Shakespeare production in 2014, Romeo and Juliet. Starting in 2015, we added a free outdoor summer Shakespeare play to our regular season.
October of 2010 brought our first Evening of Horror & Suspense, a Halloween tribute to the golden age of radio. This staged reading of spooky radio plays accompanied by live foley sound effects is now our longest-standing tradition. Thanks to Zoom, YouTube, and the herculean efforts of our hastily assembled sound editing/technology team, we were able to produce a virtual Evening of Horror & Suspense in October 2020 with a cast of 40. An Evening of Horror & Suspense is a great place to start if you're new to acting; there is no memorization, and the rehearsal period is short.
In 2012, with more and more people getting involved on the acting as well as the production side, we expanded our regular season to three mainstage shows plus An Evening of Horror & Suspense. We also performed our first musical (John Poole's Oedipus! The Musical).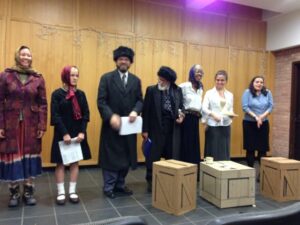 In 2014, Laura MacGregor launched a series of monthly staged readings with Mela Woods' production of Lynn Nottage's Fabulation, or the Re-Education of Undine. Staged readings are done without memorization and with minimal sets and costumes; the performance lasts an hour and there is a discussion with refreshments afterward. Staged readings are usually held on the first Friday of the month (for a while on Zoom or YouTube while COVID was keeping us apart). If you are interested in doing a staged reading (as a director or as an actor), please email us at stagedreadings@hydeparkcommunityplayers.org.
Our greatest resource has always been the people in the Hyde Park area. The HPCP reflects the diversity and eccentricity of its home. We have always been committed to inclusive casting, and to making our audition process friendly and fun. Every show brings new people, new talent, and new energy into the group.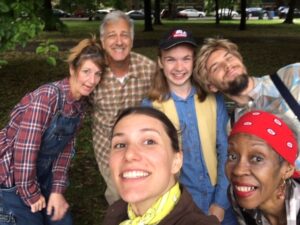 A lot about the HPCP has changed since 2009; but some things haven't. We use all the newfangled social media; but we still advertise by posting flyers around the neighborhood. Thanks to ticket sales, season ticket holders, and other donations, we are in better financial shape now than when we began, though we still have no permanent home. Most of us have day jobs, and our shows are rehearsed during the evenings and on weekends. But the challenges we face only make our dedication stronger. We do theater because we love to do it, and because we believe that the community benefits from it. And we're always looking for new members. No experience necessary.
Susan Harris