"All the world's a stage
And all the men and women merely players:
They have their exits and their entrances."
–William Shakespeare
 David Lashway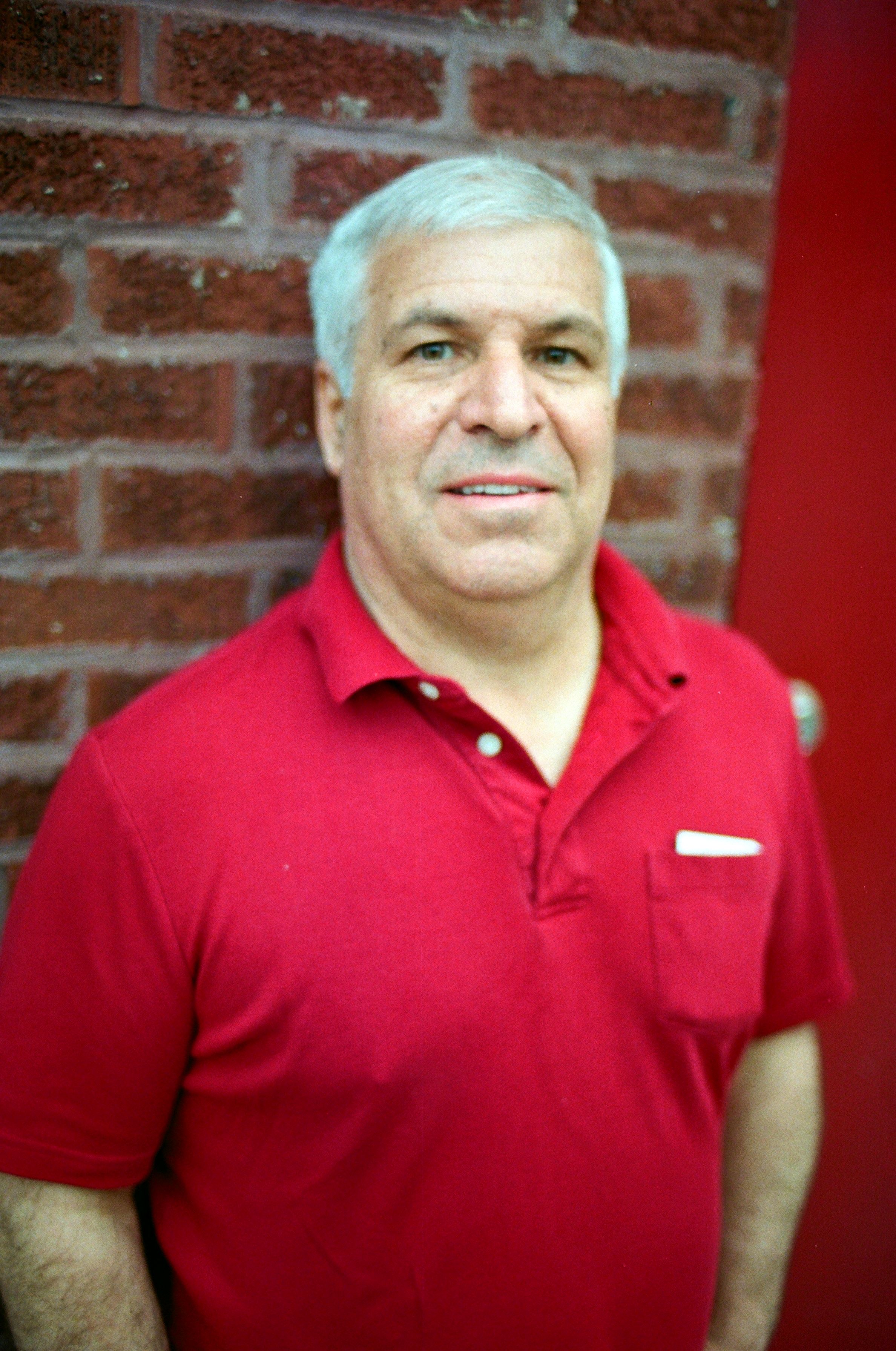 (April 9, 1952 – January 7, 2021)
David M. Lashway passed away after a yearlong battle with pancreatic cancer on Thursday, January 7, 2021. Born April 9th, 1952, third son of Henry and Ruth (Hessler) Lashway, he grew up in Des Plaines, graduating from Maine West High School in 1970. He received a BA at Adams State College and later added a master's degree in geography from the University of Missouri. After enjoying a period of international travel including a year teaching English in Egypt, he settled in the Chicago area, which he loved. He was able to use his exceptional reading, writing and verbal skills to forge a long career in corporate communications with Arthur Andersen and Thomson Reuters. Dave's many passions included the theater, family history, and the outdoors. He was an avid reader and especially enjoyed writing, at which he excelled. He had a strong sense of family, and at the time of his death was putting the finishing touches on his father's military memoirs, which involved many trips to various state and national archives and led to a publication in a national magazine. Dave will be remembered for his generosity, sense of humor and support of many worthy causes. He will be missed by all who knew him.
Dusty Trellis (Elizabeth Rahuba)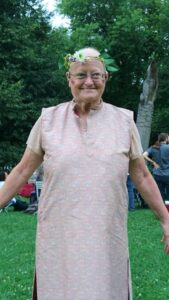 (August 15, 1954 – April 11, 2020)
Dusty Trellis was a unique, irreplaceable, and much loved member of the Hyde Park Community Players. Before her first show with us, Dusty performed with Threshold's Theatre Arts Project's 2011 show, "Maybe In A Moment," and danced at the Harris Theatre and the Jay Pritzker Pavilion as part of the "Bolero Chicago" ad hoc dance troupe in 2012.
A longtime Star Trek enthusiast, Dusty was active in sci-fi fandom, and also a tireless advocate for people with mental illness through her work with the Chicago chapter of the National Alliance on Mental Illness (NAMI) and as an improviser in the Chicago Police Department's Crisis Intervention Training.
While Dusty played many roles with the HPCP, she was especially important to our annual Halloween radio show, An Evening of Horror and Suspense. Dusty's first audition for the HPCP landed her the role of the Thing in "The Thing on the Fourble Board" in An Evening of Horror and Suspense 3 (2012), in which she gave an electrifying and indelible performance. Dusty appeared in every subsequent Evening of Horror and Suspense, playing a variety of roles (Old Nell, "Where the Woodbine Twineth;" Mrs. Summers/Mrs. Graves, "The Lottery;" the Barking Dog in "On a Country Road;" Mrs. Bilbee in "Evening primrose," Mrs. Halop in "Chicken Heart"). For our 10th Evening of Horror and Suspense, Dusty intended to recreate her performance as the Thing, but was unfortunately forced to withdraw due to illness. Our performance of "The Thing on the Fourble Board" in 2019 was dedicated to her.
Dusty appeared in several mainstage shows, including Romeo & Juliet (Citizen of Verona), Musical of Musicals: The Musical! (Narrator), Anton in Show Business (Joe Bob), As You Like It (Sir Oliver Martext), and Midsummer Night's Dream (Peaseblossom). Illness prevented her from appearing in the ensemble for Airline Highway. Dusty was active in the Staged Reading series, directing a reading of Our Town and appearing in several readings with the HPCP and with Black Olive Theater. Always enthusiastic about helping behind the scenes, Dusty worked in the box office and at the sound and light board on many HPCP shows.
In 2018, Dusty was elected to the HPCP Board of Directors, where she served as Vice President for as long as her health permitted. On April 11, 2020, she passed away at Sister Mercy Hospital. We are very grateful that Dusty and her big heart, her generosity of spirit, and her unforgettable performances found a home with the HPCP during our past six seasons. We are deeply saddened by her loss, and we will miss her dearly.
Nadine Bogan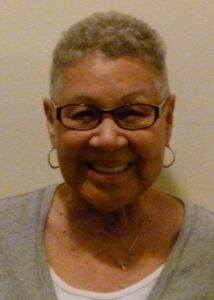 (

April 17, 1933

–

April 11, 2015

)
The Hyde Park Community Players are saddened by the passing of Nadine Bogan, who first performed with us in An Evening of Horror and Suspense in October 2012. Nadine was a retired social worker and mother of three who had also performed with the Dramatic Actors Guild at the old Michael Reese Hospital. Nadine made a splash in her HPCP debut as the tart-tongued Granny Orne in Kate Lindgren's adaptation of H. P. Lovecraft's "The Terrible Old Man" (An Evening of Horror and Suspense 2012). Nadine also performed in An Evening of Horror and Suspense 2013, and was cast in Daphne DuMaurier's "The Birds" for An Evening of Horror and Suspense 2014, but was unfortunately prevented by ill health from participating. Nadine was unfailingly generous, kind, and warm, with just a bit of a mischievous twinkle in her eye. She brought fun to every rehearsal and added zest to every performance. In her cast bios, Nadine always took care to remember her grand-daughter Rebecca, who had passed away at a young age. They are together now; and although that is some consolation, we will miss Nadine very much.  (Her obituary is available here.)
John Roberts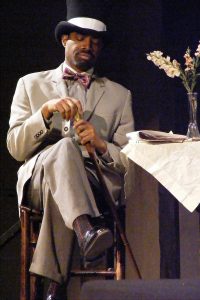 (October 20, 1957 – November 14, 2014)
John was a founding member of the Hyde Park Community Players and appeared in many of our shows, including Riders to the Sea, Antigone, Picasso at the Lapin Agile, and The Good Doctor. He was also the assistant director for Desire, Desire, Desire, for which he choreographed our first ever musical number.  John's talent, warmth, humor, and generosity have been an important part of the Players and enriched the lives of everyone who worked with him. We miss him very much.