December 2-4 and 9-11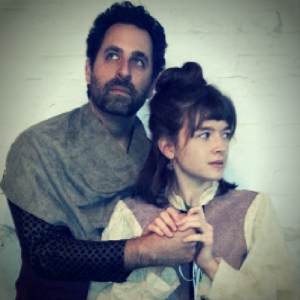 By Christopher Fry
Directed by Paul Baker
Assistant Director: Vanessa Ellis

"A poetic fantasy of rare splendor and delight…a work of magical humor and deep beauty." ~ The New York Herald Tribune
It is the dawn of the 15th century in the small English market town of Cool Clary.
The mayor's family, busy with preparations for an engagement party, find themselves stuck with two uninvited guests — who may have to be executed in the morning!
First a discharged soldier arrives, demanding to be hanged for unspecified crimes. Then comes a young woman, pursued by an angry mob who demand she be tried for witchcraft. In contrast to her coincidental companion, the young woman has no wish to be burned at the stake.
What is going on here? The street's gone mad, and all's not well within. It's enough to make one lose one's faith in human nature.
One reviewer marveled at Fry's "insistence on the wonder of human life and the capacities of human beings, individually and collectively, for the growth of soul and conscience."
Said another: "He mingles drama and poetic language, humor and tragedy, metaphysics and wit in an Elizabethan richness that invites comparison with Shakespeare and T. S. Eliot."
Read The Lady's Not for Burning blog posts, written by cast and crew.
Only 6 performances!
Friday, December 2nd @ 8 pm (opening night reception)
Saturday, December 3rd @ 8 pm
Sunday, December 4th @ 3 pm
Friday, December 9th @ 8 pm
Saturday, December 10th @ 8 pm
Sunday, December 11th @ 3 pm
Performing at: University Church, 5655 S. University Ave, Chicago (Hyde Park), 60637
Cast
Thomas Mendip, a discharged soldier: Bill Hohnke
Jennet Jourdemayne, an accused witch: Gracie Snyder
Hebble Tyson, the Mayor: Scott Malpass
Richard, the Mayor's clerk: Jake Smiley
Alizon Eliot, Humphrey's fiancee: Felicia Lee
Margaret Devize, the Mayor's sister: Andrea Holliday
Nicholas Devize, Margaret's son: Victor Panov
Humphrey Devize, Nicholas' older brother: Dan Heinz
Chaplain: Leslie Halverson
Edward Tapercoomb, the Constable/Justice: James Allen, Jr.
Matthew Skipps: Clark Weber
Creative Team and Crew
Producer: Corinna Christman
Stage Manager: Vanessa Ellis
Costumer Designer: Mary Beth McCarthy
Dramaturg: Nathan Agin
Verse Coaching: Nathan Agin and Andrea Holliday
Lighting Design: Shonte Wesson, Tess Nugent, and Bill Hohnke
Sound Design: Amelia Snoblin
Sound and Light Operators: Shonte Wesson
House Manager: Liz Horne
Ushers: Maryam Hussain, Dave Lashway, Bobbie Lyons
Properties: Michel Heinz, Laura Macgregor, Kim Shaw
Set Design: Paul Baker
Set Build Captain: Leslie Halverson
Publicity: Nathan Agin
Set Construction: James Allen, Jr., Paul Baker, Corinna Christman, Leslie Halverson, Adam Hammond, Dan Heinz, Michele Heinz, Bill Hohnke, Andrea Holliday, Felicia Lee, Laura MacGregor, Victor Panov, Amelia Snoblin, Dave Lashway, Susan Harris, Vanessa Ellis, Calliope Heinz, Gracie Snyder, Clark Weber, and everyone else.
Special thanks to: The Flying Hammond-MacGregors for all their generosity to the Players, especially the opening up of their home for set construction and storage; Augustana Lutheran Church for their generous provision of space for rehearsals and the loan of a lectern for this production.
The Lady's Not for Burning is presented by special arrangement with Dramatists Play Service, Inc., New York