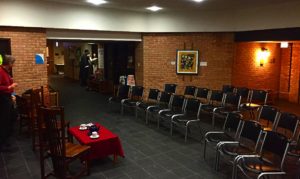 In addition to our major productions, the Players present a monthly staged-reading series, typically on the first Friday night of each month. Modeled after a literary salon, the presentations consists of a one-hour staged reading, followed by snacks and a moderated discussion, giving actors, directors, writers, and audience an opportunity to explore different kinds of theater in a relaxed, friendly setting.
Want to be involved in a staged reading? Not sure how?
Hyde Park Community Players welcomes people at all levels of theater experience — including none! Is there a short play (or excerpt of a play) that you'd love to share with an audience? Or a poetry collection or other literary work that has some dramatic possibilities? Would you like act, or direct? If so, please contact producer Laura MacGregor at 
stagedreadings@hydeparkcommunityplayers.org
to learn more about the Staged Reading Series. We currently host 2 staged readings per month, on the First Friday of the month, and the Second Saturday. In a staged reading, the actors have their scripts with them, so no memorization is required. Support is available for inexperienced or first-time directors as you learn how to work with your cast to bring a short play to life. Because of COVID-19, all readings are currently held on Zoom, YouTube, or other virtual platforms. The Friday reading is a rehearsed performance, and the Saturday readings are read-along style: everyone who want a role plays one. The typical length for a reading is about 45 minutes followed by discussion. If you're not on the Hyde Park Community Players mailing list, make sure to sign up, so you can find out about the next reading. Attending one (or more) will help give you a better idea of what's involved in putting a performance together. We would love for you to be part of this series, whether as an audience member, an actor, or a director!
Previous staged readings can be found here.