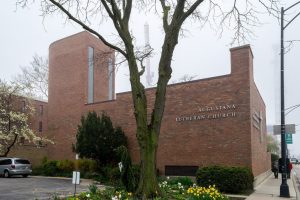 Augustana Lutheran Church (where we hold our monthly readings, and often have auditions, rehearsals, and workshops) is having a WORK DAY on Saturday, November 12th, 9:00 am – 1:00 pm with lunch served at 12:00 pm.
We would love to have any Players along who can join! This work day is part of our give-back to Augustana and we have always made a strong showing.
WHERE: 5500 S Woodlawn Ave, 60637 (map)
Set Builds for The Lady's Not for Burning
This show will be here before we know it, and we need a set! All levels of skill and experience are welcome, as there are lots of things to do!
Saturday, November 12th: 1:00 pm until dark (~5:00 pm)
Sunday, November 13th: 1:00 pm until dark
Saturday, November 19th: 10:00 am until dark
Sunday, November 20th: 1:00 pm until dark
WHERE: The Hammond-MacGregor's, 1545 E 65th Place, 60637 (map)
If we get it all done early, we'll cancel the last builds.
And YES, you could come to both the Augustana Work Day *and* set build on 11/12. We appreciate it!