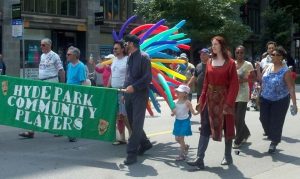 Every year since our founding, HPCP has participated in 4th on 53rd, Hyde Park's annual Fourth of July celebration. This year, you can enjoy the HPCP at 4th on 53rd in THREE ways!
First, you can walk with us behind the HPCP banner in the parade. The parade kicks off at 11:00am on July 4, 2017; we will be lining up in the Hyde Park Bank parking lot starting at 10:00am. Look for the big green banner.
Or, if you would prefer to travel in real style, join the Costume Party on a Float!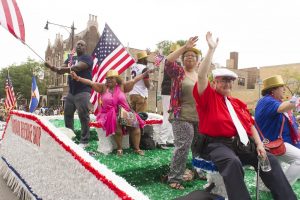 Show up in your favorite costume at 10:00 am at 54th and Old Lake Park. You'll be able to hop on the float and enjoy the fun while gently rolling down 53rd street.
After the parade, stay for the 4th on 53rd Picnic in Nichols Park, where you will be entertained by fellow Players performing scenes from our upcoming play, Twelfth Night!