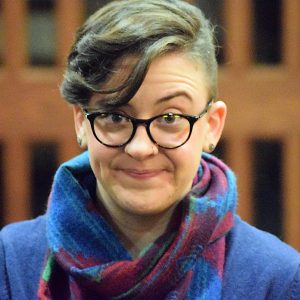 This begins a series of interviews introducing the new members of our Twelfth Night cast and crew. Today we begin with director Leslie Halverson. Leslie made her HPCP debut as Logainne Schwartzandgrubenierre in The 25th Annual Putnam County Spelling Bee. She played the Boatswain in our first summer Shakespeare play (The Tempest) and was recently elected to the HPCP Board. This is her first time directing for the HPCP. 
Q: So what made you interested in directing Twelfth Night?
LESLIE: Last summer, I had the opportunity to direct a small show written by a good friend of mine. Although I had acted in assistant director and stage management positions before, this was my first experience as DIRECTOR. I was especially fortunate to be able to experiment with an original work, meaning we didn't have any previous productions from which to draw inspiration. I got to really stretch my creative and interpretive muscles, and watch this play that my friend created come to life. I caught the directing bug. When HPCP asked if I would be interested not only in directing, but in directing outdoor Shakespeare? I felt like a kid in a candy store!
Q. What are some of the particularly sweet confections offered by Twelfth Night that you wouldn't get from, say, Midsummer Night's Dream or some of the other perennial summer Shakespeare favorites?
LESLIE: Well, one of my favorite things to do with theater is mess around with gender and non-traditional romances. Twelfth Night offers an unbelievably overstuffed cornucopia of opportunities to do this. At its core, even without pushing it beyond the text itself, it is a show about gender-bending for purposes of disguise, and the romances that develop as a result. That alone is unbelievably fun to play with, but in our production, we are also finding other buttons to push, including changing Malvolio to Malvolia, and dealing with the important implications this shift requires. In addition to being hilarious and exciting, Twelfth Night can also make some really bold social statements about gender roles and romance.
Q. I love Twelfth Night, partly because the ending has always seemed kind of ambivalent and unresolved for a comedy. Everyone's married off, but many of the principals don't really get what they've spent so much of the play wanting. What's your take on the ending?
LESLIE: I completely agree that the ending is more unsettling than satisfying. One of the big things we are currently working on is figuring out how to play the ending. I can say already that we are doing something rather nontraditional with one of the characters, but I won't say more than that! It's definitely a challenge. I don't want to shy away from the potential problems the ending creates, but it is a comedy. We have to figure out how to walk the line in a satisfying way.
Q: Last question: this is the play that gave us the line, "If music be the food of love, play on." Can you tell us a little bit about what you're doing with the music for this show?
LESLIE: I am very excited for the music in this show! We've been lucky enough to have a vocal renaissance trio volunteer their talents, as well as several musically talented people in our ensemble. Our party scenes will definitely be full of wonderful people and music! We are also incredibly lucky to have Max Morey playing Feste, the fool. Max, in addition to being a lovely singer, plays several instruments and is always game to experiment with them. If you come to see the show, you may not see the same instrument two scenes in a row. I've been incredibly lucky to have such talented people to work with, and I'm excited to see how the music grows and develops.
Q: I also am excited! Thanks for taking the time to talk to me about the show. Good luck with rehearsals!
LESLIE: Thanks, Susan.
Susan Harris with Leslie Halverson