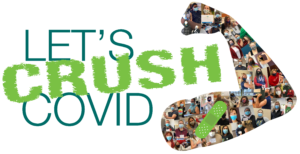 Hi, friends.  Think about it for a moment: one day we'll be saying to one another, "Remember that pandemic!  How did we ever get through that?"
How soon can we start saying that!?  That will depend on us.  The world has been handed the tool we need to put this present into that past, vaccination, and we're fortunate in this country that it's available for anyone who wants it.  We Players have the added incentive–if we needed it–that the prospect of live theater makes us eager to move on from PandemicNation to VacciNation.
These Players are proud to be part of our next life-giving production.
If you'd like to join them, send your name and a picture of you, the date you were/will be fully vaxxed, and any other words you'd like to share to Paul at plsbkr@netscape.net (Remember: don't send a legible picture of your vaccination card; that's private information.)
Ron Chafetz

Enjoying the Field Museum with Maximo fully vaccinated since April 6, 2021.

Kim Shaw

Fully vaccinated since early May.

Laura & Meara MacGregor

Fully vaccinated as of April 15 and May 8, 2021–now we can safely travel, see friends and do live theater! If you need a ride, I'm happy to drive anyone to get the shot.

Marilyn Cavicchia

I've been fully vaccinated since May 11. I took this selfie a couple of days after that, as I was getting ready for my first indoor, in-person event since March 2020, when we closed She Kills Monsters early and went out to dinner to celebrate and mourn. I have a lifelong phobia of needles, but it was important that I do this, not only for my own health (and in memory of a friend's father and of our own Dusty Trellis), but also so I don't stand in the way of all of us being able to move forward — together.

Paul Baker

Fully vaxxed May 28.  And  further boosted December 23, 2021. Can't wait to start doing live theater again.

 
Bill Hohnke

Fully vaccinated since April 16, 2021.

Corinna Christman

Vaccinated since March 2021.  I felt like I had finally emerged safely from a dark forest of shadows and hidden dangers.  Whew!
Are you not yet vaccinated and looking for an opportunity?  Check out these resources to find a location near you: