Typically, the day after the show closes, the director's blog entry is about how great the show was, how sad it is that it's over, what wonderful memories we all have of it, and so on. All of these things are true, and I will indeed write that post, right after I finish this one. In this one, I want to say something about what happened in Orlando on Saturday night.
At around the time that we were at the cast party handing out awards to the cast and crew and production team, a man with an assault rifle entered the Pulse nightclub in Orlando, Florida and opened fire.  He killed at least 50 people and wounded over 50 others. Pulse is a gay club, and it was Latinx night. The queer community and the Latinx community have both taken a beating this year from Trump and from state legislatures desperate for scapegoats and distractions. And now this.
I'm going to repost, now, a couple paragraphs from the directors' note in the program:
About this time last year, the United States Supreme Court decision inObergefell vs. Hodges gave same-sex couples equal access to marriage in all 50 states. Images of celebration exploded all over the media. The White House was lit up in rainbow colors, and tweeted about the decision with the hashtag #LoveWins.
I had just been greenlighted to direct An Ideal Husband for the HPCP's 2016-2017 season. I thought: This really is a new century. The 1990s are as remote as the 1890s. The things that shaped LGBT identity when I was coming out—the desperate early years of the AIDS crisis, the unchallenged hatred of the political and religious right, the closet, the way we just took it for granted that coming out meant we would never marry or have children—have passed away. I am as much of a period piece as this play.
I was wrong, of course. By the time we started rehearsing this show, the backlash had begun. It has never been less clear to me what the future holds. It's lucky we still have our history, including what's encoded in An Ideal Husband.
From the beginning, I had approached An Ideal Husband in the context of Oscar Wilde's impact on LGBT history and culture in the 20th century.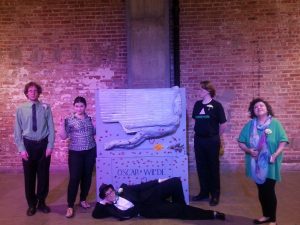 When I first proposed the play, I worried about my desire to incorporate this often quite painful history into a play which—although it is certainly dramatic—is typically considered a comedy. In the wake of marriage equality my insistence on dragging my own past into the production seemed to me as if might be mere nostalgia, as if it might arise from my own refusal to leave the twentieth century behind and to embrace this brave new world of public acceptance, legal equality, and what the queer theorists are starting to call "homonormativity."
What happened at the Pulse nightclub is a harrowing reminder that none of this is history. The hatred that fueled both legal and extralegal violence against LGBT people throughout the nineteenth and twentieth centuries is still alive. Soon after Bill took over the role of Lord Goring, I had a conversation with him and David about Robert and Arthur and their relationship. I wanted to explain about Goring's well-hidden vulnerability. I said, Goring is a character who in various ways is marked as a man who loves other men. This makes him vulnerable because it's 1895 and it's illegal in England for men to have sexual relations with other men, so any time he's out socializing with other 'bachelors,' he knows that at any moment the place can be raided, that he could be arrested and exposed in the papers. It also makes him emotionally vulnerable because he has these feelings which are so often not returned, and which are dangerous to express. I said, Goring has a kind of proto-camp sensibility. Camp is funny, but it comes from pain. Camp is something gay culture developed as a means of protecting itself against the everyday trauma of living in a time and place where gay men were continually vulnerable to all kinds of assaults. He takes refuge in triviality because sincerity is painful to him, because it's dangerous. At the time it was just a conversation about character and motivation, one of a million conversations like this that I had with cast members throughout the rehearsal period. Now I'm reading piece after piece online in which members of the community talk about their vulnerability, about how enduring the hostility is, about the constant threat of violence emanating from this culture, about how important spaces like Pulse are because they are—or were—safe. I read the pieces about how important dancing is, I remember teaching Andrew Holleran'sDancer from the Dance, I remember all the times I've said: the Stonewall Inn was a dive but it was important to the community because it was a place where people could dance.
Everything changes and nothing changes. Love wins; hate survives. We can get married in Florida and we can be killed there. We need to know our past because it is our present and it will inevitably be our future. Oscar Wilde says in "The Soul of Man Under Socialism" that "A map of the world that does not include Utopia is not worth even glancing at, for it leaves out the one country at which Humanity is always landing." In June 2015, to a lot of people, it felt like we had landed there. But as Wilde knew, you don't just get off the boat and start building a house on the shore. You always have to keep sailing, you always have to keep landing. There will never be a moment at which you can say: I'm done traveling, this place is fine, I'm going to rest here. "You must STOP MOVING," says the Angel in Part Two of Tony Kushner's Angels in America; and that's the moment at which Prior starts to realize that he has to fight her. As soon as we think we're safe ashore, something happens to remind us that we're wrong.
I know exactly what many of our politicians will do in the coming days with the shooter's identity and background. I want to say this to them: we have lived through this history and we know where this violence comes from. And when you try to tell us, as you inevitably will, that it comes from Islam, or from immigrants, or from our Muslim fellow-citizens, and that therefore we must support hateful and bigoted policies and rhetoric targeting these people, we will know you are lying. Because we have been getting all this and more, for decades, from the Christian right; and we've all learned to separate what the demagogues and the bigots and the hypocrites use a religion to do and say from the religion as it is lived by the ordinary people who profess it. You can peddle your Islamophobia to Fox News and maybe they will buy it. But don't try to sell us that bullshit. We know that violence against us is authorized by our own government, by our own religious leaders, by our own culture. We know whose fault it is that anyone whose hatred of us has for whatever reason burst its boundaries can legally obtain an assault rifle capable of killing fifty people in one horrific burst. We know that many of the same people who keep us vulnerable have lately turned the same hateful rhetoric and hateful policies against Muslims. Bigotry is always our enemy, no matter who it's directed against. History has taught us that.
I debated saying something about Orlando in the pre-show announcement Sunday afternoon. I decided against it, in the end. I did tell the cast, backstage, that today would be a tough day for LGBT people everywhere, and that I was very glad to be spending the afternoon with them putting on this show. I said, the opposite of hate is love, but the opposite of hate is also art. And then they went out to make some art. They were a great cast; they did four great shows; I will be posting about all that soon. I was just struck, at the time, by how glad I was that we had something to offer on Sunday, June 12 that would maybe in some tiny way help even the scales. That maybe one little peacock feather would drift down onto the side of love, and do its insignificant bit to help love outweigh the side of hate.
Susan