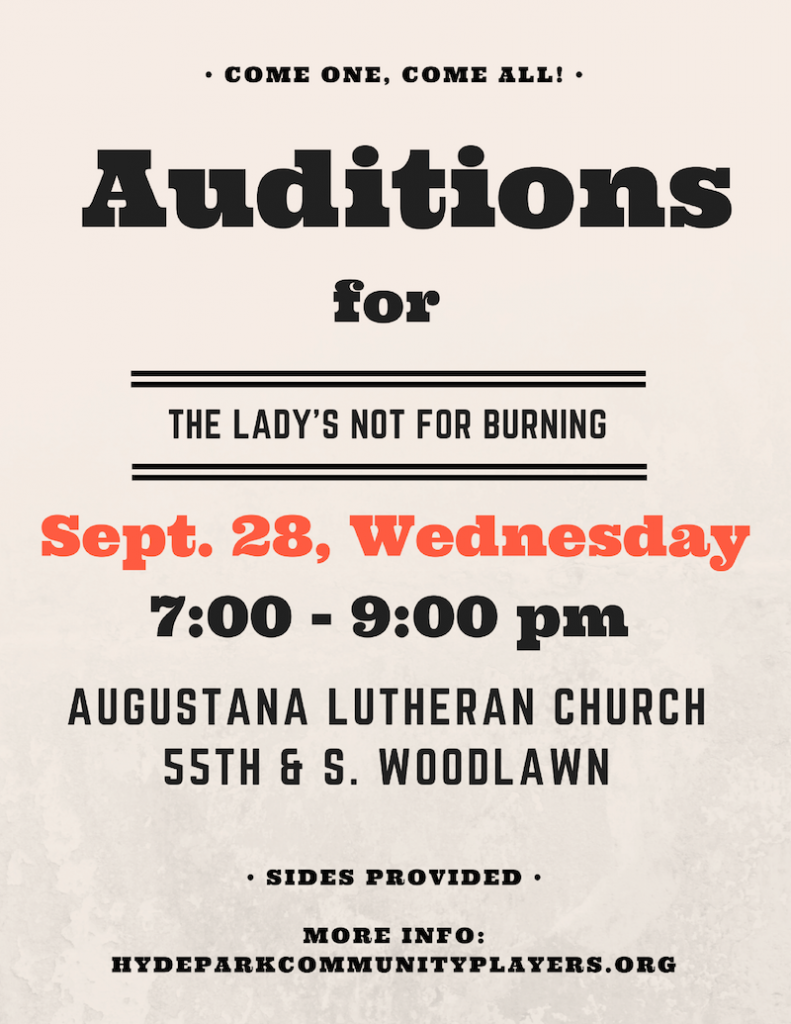 by Christopher Fry
directed by Paul Baker
Saturday, September 24th, 3:00 – 6:00 pm
Wednesday, September 28th,  7:00 – 9:00 pm
Augustana Lutheran Church, 55th & Woodlawn
Performances will be December 2-4 and 9-11.
No appointments necessary and no need to prepare anything; we will have sides available from the play. You are welcome to present a short verse/classical monologue if you like.
We hope you'll join us, and as always, we hope you'll help us get the word out by sharing this event and inviting those friends you think would be interested.
THE PLAY:
A romantic verse comedy set in England in the Spring of 1400. The play centres around the meeting of cynical Thomas Mendip, a man so bitter that he wishes himself executed, and Jennet Jourdemayne, a young and beautiful girl accused of witchcraft. Thomas's insistence that he be hanged falls on deaf ears, while Jennet's protestations of innocence serve only to incriminate her.
THE ROLES:
RICHARD, a clerk – A foundling with unexpected reserves of courage and ingenuity.
THOMAS MENDIP, a discharged soldier. Fights despair with wit and outrageously bad behaviour.
ALIZON ELIOT – Fresh from the convent, innocent but finds the strength to make brave choices.
NICHOLAS DEVIZE – Driven by impulse and hormones.
MARGARET DEVIZE, mother of Nicholas – Comfortably domestic, unflappable – usually.
HUMPHREY DEVIZE, brother of Nicholas – Town Councillor, born to the role, uses it to wield power.
HEBBLE TYSON, the Mayor – Plagued with post-nasal drip and a need to be respected.
JENNET JOURDEMAYNE – Faces a terrifying situation with humour, courage and honesty.
THE CHAPLAIN – Schooled in a theology that fails him in the face of brutality and fear, longs to be a musician.
EDWARD TAPPERCOOM, a Justice – Pragmatic, sensual, has opinions on everything.
MATTHEW SKIPPS – The drunken rag-and-bone man who saves the day. A terrific cameo.