James Allen Jr. (Kevin) made his debut with the players last summer as Caliban in The Tempest. Since then he has appeared as Justice Edward Tappercoom in The Lady's Not For Burning. His hobbies include birdwatching, yodeling, and tracking down stolen masterpieces for the International Order of Traveling Art.
---
Paul Baker (Russ/Dan) is the founder of the Hyde Park Community Players and served as President for seven years. His directing credits include Riders to the Sea, Arcadia, Proof, and The Lady's Not For Burning. Paul has also designed sets for a number of HPCP productions and appeared on stage in numerous roles, including Sagot in Picasso at the Lapin Agile, the Writer in The Good Doctor, and Lord Caversham in An Ideal Husband.
---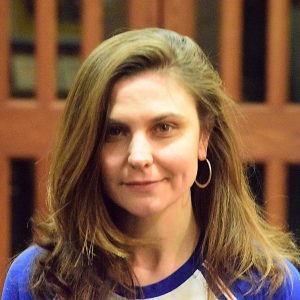 Corinna Christman (Bev) is a founding member and the current president of the HPCP. Corinna has been involved in every HPCP show since 2009. Her directing credits include Picasso at the Lapin Agile, The 25th Annual Putnam County Spelling Bee, and The Marriage of Bette and Boo. Corinna's acting roles include the Chorus (Antigone), La Presidente de Tourvel (Les Liaisons Dangereuses), and Catherine (Proof).
---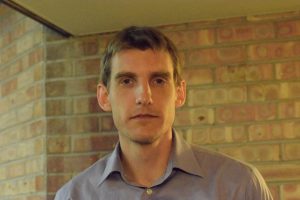 Dan Heinz (Jim) is currently the treasurer of the HPCP. Dan's first acting role with the Players was in the angry mob in Antigone. His other roles with the Players include Freddy (Picasso at the Lapin Agile), Stephano (The Tempest), and Humphrey Devize (The Lady's Not for Burning).
---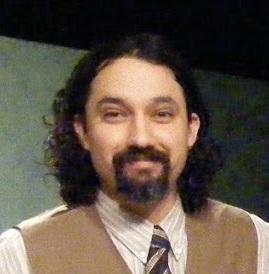 Mike Herring (Tom/Kenneth) is excited to be back for his second show with the Players. Mike appreciates the Players' joie de vivre, their panache, and their passion. The power of the theater, the magic of strangers coming together to tell a story, the work of meeting and building something with members of your community – it's all real good, necessary, stuff to be enjoyed and encouraged, especially during the dark times to come. When not on stage, you can catch him riding the CTA, listening to Cincinnati Reds baseball, and/or working on that Great American Piece of Writing at the Cove.
---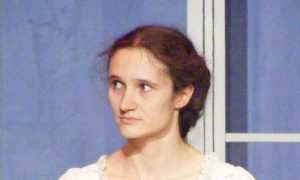 Renata McAdams (Kathy) made her HPCP debut as Thomasina in Arcadia, and more recently appeared as Claire in Proof. In her spare time, Renata enjoys skydiving and extreme ping-pong. She hopes one day to break the Guinness World Record for longest continuously operational ant farm.
---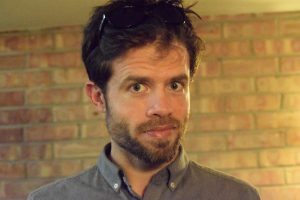 Eric Roberts (Karl/Steve) has appeared with the Players as Le Vicomte de Valmont (Les Liaisons Dangereuses) and Tybalt (Romeo & Juliet). Lately he has been pursuing an interest in photography. Eric summers in Antarctica, where he is teaching penguins theoretical and applied physics.
---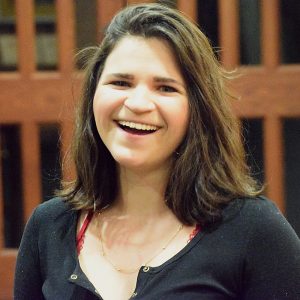 Amelia Snoblin (Betsy/Linsdey) is delighted to be appearing in her seventh production with the Hyde Park Community Players. If you've seen her on stage before, you've probably heard her singing, but she's thankful to be sticking to acting this season. Amelia's most recent role with the Players was Emily Brennan in The Marriage of Bette and Boo. By day, Amelia is a freelance writer and web designer, with a graduate degree from the University of Chicago. By night, she sings with the Rockefeller Chapel Choir, reads 20th century novels, and eats massive quantities of pickles at Jimmy's.
---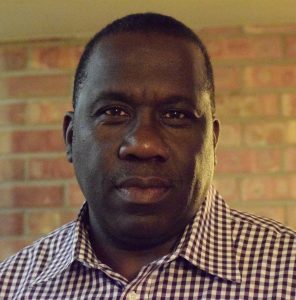 Paul Upshaw (Albert) is proud to make his HPCP debut in Clybourne Park.  Paul attended Acting Studio Chicago where he graduated Level 4 Core Acting Program and completed On-Camera Class I.  He has appeared on television as an extra in Chicago PD, Empire, Chicago Med and Chicago Justice.  Paul is a Chicago sports fanatic and is going on his 8th season working for the Chicago Bears.
---

Shonte Wesson (Francine/Lena) is a veteran of An Evening of Horror and Suspense and has appeared with the Players as Hannah (Arcadia), Michaela M. Mahoney (25th Annual Putnam County Spelling Bee), and Trinculo (The Tempest). An avid photographer, Shonte is currently training in competitive turtle-stacking and hopes to compete in the world championships this summer.
---
Vanessa Ellis (Director) is a theater enthusiast who has been a member of the Hyde Park Community Players for several years, and serves on its Board of Directors. She made her adult acting debut in the Players' production of The Good Doctor. She staged managed Proof, and produced The Tempest. Vanessa was the assistant director and stage manager of The Lady's Not For Burning, and directed the 2015 production of An Evening of Horror and Suspense in the Old Time Radio Tradition. She directed a staged reading of Lorraine Hansberry's classic play, A Raisin in the Sun, and the play Raising the Roof, which she co-wrote. Vanessa is a published author who enjoys writing plays and short stories. When she is not engaged in artistic pursuits, Vanessa is a criminal defense attorney in Chicago.
---