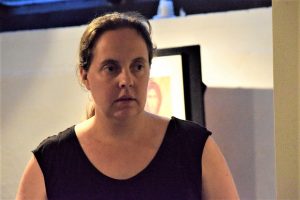 Today we meet Margaret Richards, who plays Maria. Margaret hails from New York City and has been in Hyde Park for the past three years.
Q. How did you find out about Twelfth Night, and what made you decide to audition for it?
MARGARET: I've seen flyers for different auditions and productions around campus before and have never been able to make it. I did a lot of performing in high school and college and a little after college but it's been a long time and I miss being on stage. The audition and show dates finally both 'worked' for me so I thought I'd give it a try!
Q. What brought you to Hyde Park?
MARGARET: I moved here with my husband almost three years ago when he started a PHD program at the University of Chicago. We live in Woodlawn because it's close to his department and we love the quiet neighborhood. People sometimes laugh at us when we talk about how quiet it is and how there's no traffic and everything is so inexpensive — we moved from Queens (NYC) so by comparison this is like the suburbs!
Q. What's your relationship with Shakespeare been like up to this point? 
MARGARET: I've never been a Shakespeare fanatic but I do like the plays I've seen and been in. The last I saw performed was King Lear with Frank Langella in NYC which was phenomenal. I've seen several stagings of Midsummer Night's Dream and have been in I think two parodies where I played Bottom — that's probably my favorite show. I've seen several others… I liked Richard III but it was so loooooong!
Q. Tell us about some of your favorite parts or shows.
The last show I did was a production of The Compleat Wrks of Wllm Shkspr (Abridged) in Seoul, Korea in 2003. The show itself is hilarious and our cast was super fun. Performing for an audience that included many people with limited English skills also required us to be really creative with being visually and physically expressive. I performed the entire show on roller skates and at one point 'clucked' Christmas songs to a chicken on wheels. A year or two later I was hanging out with a Korean cast of a show that was on Broadway – when we met they were a bit shy with their English but then one recognized me as 'the girl with the chicken' and they all laughed and opened up as they'd all seen the show. Other favorites… Actor's Nightmare, All in the Timing, Music Man, Pajama Game… the first show I did in college was Inherit the Wind in which I played the coveted role of 'hot dog vendor.' I spent a month trying to get the right southern accent for saying 'hot dogs… get your red hots!' I also was twice cast in a play called The Dinner Party written by my talented friend Brian Gish that was hilarious.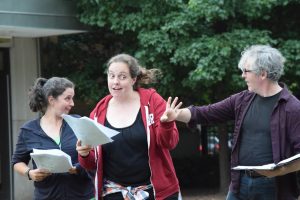 Q. What do you think draws Maria into this bond she seems to have with Sir Toby and Sir Andrew? How does she really feel about them? 
MARGARET: I think Maria is content with her life and job up to this point – I'm sure this is not the first time she's met Toby and past experience has shown her he's more trouble than he's worth. But by contrast with her life alongside the stiff, stodgy Malvolio(a), he's a breath of fresh air; and by this time, she's at a point in her life where she is ready to break out and have some fun — she is very comfortable with and devoted to Olivia but being in mourning for so long alongside her probably also gives her reason to want to break out and be a little irresponsible.
Q. What does Maria get out of the trick they play on Malvolia? Is there ever a point at which she thinks, OK, this is maybe going too far?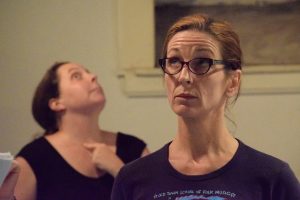 MARGARET: Her scolding by Malvolia in Act II is perhaps the last straw after years of being subjected to her nagging and self-aggrandizing. In our version of the play (which is abridged from the original), I don't think Maria regrets anything — I think she has gotten to let her hair down and exact revenge on a woman who has dragged down the quality of her life (especially the fun in it) for a long time. The ruse also facilitated her and Toby getting together (which is made more clear in the unabridged version) — so while in the end she is publicly shamed for what happened and she feels a bit embarrassed, I think she'll wake up the next morning it will have passed and she'll be living with a new sense of freedom and fun herself!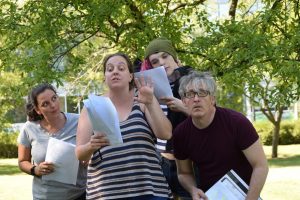 Q. Is there anything else you would like people to know about you?
MARGARET: My agent, Pollyanna, will be handling media requests from this point forward. She can be bribed with bubbles, milk and a rousing rendition of row row row your boat.
Susan Harris with Margaret Richards