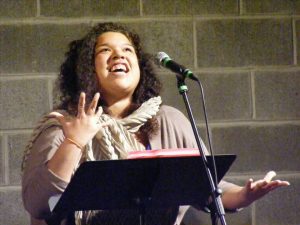 This year, on October 21 at 7:00pm at Augustana Lutheran Church, the Hyde Park Community Players will put on our eighth annual Evening of Horror and Suspense. (Buy tickets here!) We've been doing this show in this format since the fall of 2010, which makes it our oldest annual tradition. There are a lot of things that contributed to the establishment of this tradition; but the main one is that we have a lot of people in this organization who just really LOVE Halloween. This group includes most of the people who have directed the show, including this year's director, Shonte Wesson.
An Evening of Horror and Suspense was originally the brainchild of Terrie Vasilopoulos and Nora Davis. We had done a Halloween show in October 2009 called "Frightening Funny Family Fun," which was sort of a motley assortment of skits and storytelling. Terrie and Nora turned for inspiration back to the golden age of radio, and suggested setting up the Halloween show as if it were the taping of one of those 1940s radio shows, with the actors reading into microphones and the sound effects done live on stage. Terrie and Nora together adapted five classic horror stories–'classic' meaning, among other things, 'in the public domain'–into radio plays.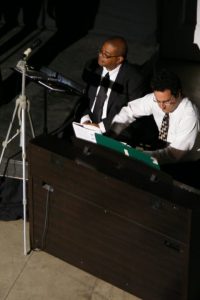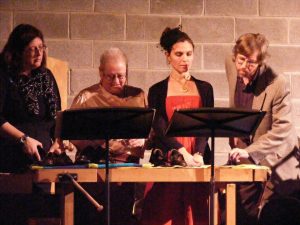 Chris Skyles was brought in as the host of the show, reading in his mellifluous voice from a script into which the director traditionally packs as many corny puns and jokes as possible.  Bill Hohnke provided live music.  There was great excitement about the sound effects–so great that I was asked to put a note in the program warning people that "some of our sound effects are a bit loud. If you have sensitive ears, you might want to keep an eye on the trash can lids." The trash can lids, if I recall correctly, were for Charles Dickens's "The Signal Man." There were less bombastic but equally memorable sound effects, like the slow and methodical sliding of the trowel along the brick as the wall rose higher in "Cask of Amontillado." Thanks to our ever-indefatigable sound effects directors, every year there are new surprises in the sound department. The eerie soundscape created by Mary McCarthy for season IV's "The Music of Eric Zahn" stands out, as does the terrifying conclusion to season V's "The Birds."
Nora and Terrie have, sadly, moved away, but their legacy lives on, and the Halloween show continues to be one of the most highly anticipated events of the season. It's a great 'starter show' for people thinking about getting involved on the acting side; the audition process is very informal, there's no memorization, and the rehearsal schedule is comparatively light. (My first ever HPCP acting role was as Molly in Ray Bradbury's "The Scythe." It involved giving a blood-curdling scream at a moment when most people weren't expecting it. It was uniquely satisfying.) It's also a good starter show for people thinking about directing. Past radio show directors include Bill Hohnke, Mary McCarthy, Vanessa Ellis, and Amelia Snoblin.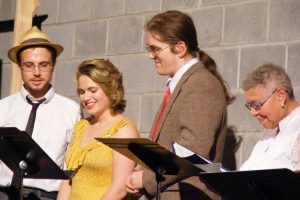 As time went on, we found more ways of evoking the vintage radio atmosphere, with commercials, singing, and period-ish costume. (The sponsor messages were such an important part of the original experience. There's nothing like being wrought up to a pitch of high anxiety only to have the program interrupted by two very earnest actors having an extremely awkward conversation about Ironized Yeast.) We shifted away from doing our own adaptations and toward re-interpreting the old radio plays from all those vintage shows with such wonderful titles: Mystery in the Air, Suspense, Quiet Please, Weird Circle, Dimension X, Terror By Night, Lights Out, Escape. 
The format stays the same from year to year–20-minute radio plays interspersed with commercials and jingles–but each director puts his or her own touches on it. This year, Shonte has decided to make the event more family friendly with an earlier start time (7:00pm) and goodie bags for anyone who comes in costume. This year's plays are, as always, spooky, sinister, and strange. A man becomes fascinated by fire and it doesn't end well ("The Flame"). Two young women lost after dark are faced with a terrifying choice between two hideous options ("Valse Triste"). A poet comes up with wthe brilliant idea of living in a department store; after the lights go out he discovers he's not alone ("Evening Primrose"). And a young man grieving the loss of a certain maiden named Lenore receives an unexpected avian visitor from the night's Plutonian shore.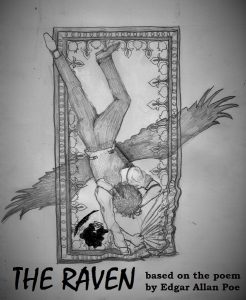 Of course, it would not be Halloween without decorations, or at least some kind of spooky atmosphere. We extend this to the Halloween show program, which always features Cate Baker's Haunted Radio Host on the cover. For the second Evening of Horror and Suspense, I asked Bill if it would be OK to include illustrations of the stories in the program, and I've done that every year since then. I suppose maybe I spent too much time with Edward Gorey as a kid, but I like reading or listening to the story and then trying to come up with a creepy image that captures the spookiness but doesn't give too much away. At some point, one of my high school art teachers impressed upon me the importance of negative space, something that continues to come in handy every October.  It's a relief to withdraw for a while from the daytime world of clear and present dangers to spend some time in the realm of the supernatural, the occult, the creepy, and the vaguely menacing. Maybe that's why, during the 1930s and 1940s, the airwaves were filled with tales of terror from beyond the grave, outside of the solar system, and beneath the surface, and why we keep going back to them. So come on out to our eighth annual radio show for some recreational, maybe even medicinal, thrills, chills, and spine-tingling HORROR and SUSPENSE!
Susan Harris