Let's meet the cast members who will bring She Kills Monsters to life on stage from March 13-15 and 20-22!
Name: Billy Cooper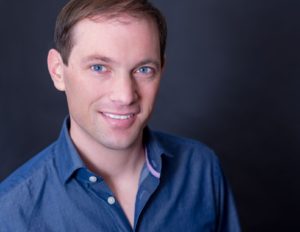 Age: 40
Background: Professional Actor with a B.A. in Acting from ISU with a M.A.T from National Louis University
What inspired you to audition?
I auditioned with my girlfriend April. We live in the neighborhood and saw HPCP's Midsummer Nights Dream and loved it. I wanted the opportunity to work with this group. I was curious about how the script could be put on stage with these badly behaving characters. The
dialogue is hilarious. I laughed a lot when I read the play. I was excited to fill in (the original person cast as Orcus had to leave the play).
Do you have prior theater experience?
Children's theater to highly dramatic roles. Everything from Pinocchio to the Stroop Report about the Warsaw ghetto.
What do you like about your character?
I play Orcus. He is at a junction in his life that he no longer does what he used to do meaning kill and eat people. He has devoted his life to watching and studying the television arts. Being a demon killer is harder than being a couch potato. He gets to make a definitive life
decision on stage. Nobody really likes him because he was a vicious killer.
If you could bring your character alive would you? Would you be friends?
No because he's a slacker.  I'm not interested in people who are not willing to contribute to society. He used to as part as top of the
food chain. He needs to get back into killing to make a mark in life.
What's been your favorite experience thus far?
Honestly, I like working with my girlfriend. We have been helping each other with our characters. I appreciate Meara's enthusiasm for D and D. It's real theater because it's a relationship based game.
Interview by MacZ Zurawski