IF YOU BUILD IT, THEY WILL COME:
The Story of the Hyde Park Community Players
On January 20, 2009, while the rest of Chicago was celebrating the inauguration of President Obama, a small band of hardy theater enthusiasts, drawn together by a lot of yellow flyers posted by Paul and Rachel Baker, met to discuss the question, "Does Hyde Park need a community theater?" Having agreed on the answer, they went to work.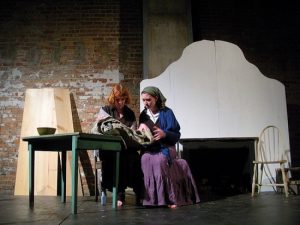 With nearly no money, a barely-there set, just enough people to fill out both casts, and costumes salvaged from the actors' own closets, the HPCP mounted its first production in the Experimental Station in June 2009. It consisted of two one-act plays: Riders to the Sea, by John M. Synge,  directed by Paul Baker; and Anton Chekhov's The Bear,  directed by Corinna Christman.
Seven years later, the HPCP is in the midst of its most ambitious season yet, including one musical (The 25th Annual Putnam County Spelling Bee), two small-cast plays staged on alternate nights (Cheryl L. West's Jar the Floor and David Auburn's Proof), Oscar Wilde's comedy-drama An Ideal Husband, and our second Shakespeare play, The Tempest, which will be our first outdoor production. All this while staging our annual Evening of Horror and Suspense, now a Hyde Park Halloween tradition, and holding staged readings of other plays once a month throughout the season. We've come a long way; and we expect to go much farther.
With each show, we have tried to grow the organization by choosing plays that required skills and resources we didn't already have. If we build it, we said to ourselves, they will come. Our February 2010 show, Yeats's On Baile's Strand (along with Moliere's The Flying Doctor),  caught the attention of Mary McCarthy, who saw immediately that we would need beautiful costumes, and miraculously appeared in Paul's living room one night and offered to make them. I still remember the moment at which Mary looked at the swath of green velour that we were using as Cuchulain's magical cloak and just said, "You can do better." And every show since then, we have, thanks to Mary. Bill Hohnke and Corinna Christman also brought Jenne Lennon on board, and she has since composed original music for several of our shows; Bill himself has also composed original music for several of our shows (including Glory in the Flower, Strains of Triumph, and An Ideal Husband). Terrie Vasilopoulos, who (along with Nora Davis) was so instrumental in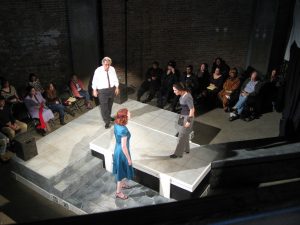 establishing our annual Halloween 'radio show' (An Evening of Horror and Suspense) directed our first full-length play, Murder, You Must Be Kidding!,  in June 2010. Thanks to Christa Marshall, we also mounted our first (and soon-to-be-annual) Shakespeare Boot Camp that year, which introduced us to the Flying Hammond-MacGregors, a Hyde Park theatrical family that have welcomed us into not only their hearts and souls but their capacious two-car garage. That winter, Antigone became the first show we staged in the round. Corinna's triumphant production of Steve Martin's Picasso at the Lapin Agile in June 2011 scaled new heights in terms of set design, lighting, and visual effects—as always, with the help of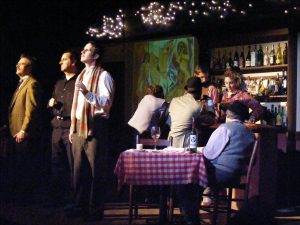 Bill, who still does all our lights all the time. Laura MacGregor made her directing debut the next winter with two one-act plays by William Inge (Glory in the Flower and Strains of Triumph). We were foolhardy enough to take on Ionesco's Rhinoceros in spring 2012—featuring our first modular set, our first use of masks, and our first ever herd of stampeding rhinos. In our next season, we began inching toward doing a musical with The Good Doctor and "Desire, Desire, Desire and more Desire"—straight plays incorporating a couple of musical numbers—and our first original work, John Poole's Oedipus! The Musical! Oedipus! was our first collaboration with another local amateur group—the University of Chicago's Classical Entertainment Society—and introduced us to Eric Shoemaker, fight choreographer extraordinaire. Swords were slung and daggers drawn in our next two major shows, Dangerous Liaisons and Romeo and Juliet. We now have another two musicals under our belt–Musical of Musicals: The Musical and Putnam County—and continue to expand our horizons in every direction.
Through all this, our greatest resource has always been the people in Hyde Park. Our actors are drawn from all over the neighborhood. Hyde Park is unlike any other neighborhood in Chicago, and the HPCP reflects the diversity and eccentricity of its home. Sadly, some of our founding members have graduated and/or moved away; but Hyde Park is always attracting new people, and every show brings new members into the group.
A lot has changed in seven years; but some things haven't. In addition to using all the newfangled social media, we still advertise by posting flyers around the neighborhood. Though, thanks to ticket sales and sponsorships from local businesses, we are in better financial shape now than when we began, many things that most professional or student theater groups can take for granted remain out of reach for us. Most of us have day jobs, and our shows are rehearsed during the evenings and on weekends. But the challenges we face only make our dedication stronger. We do theater because we love to do it, and because we believe that the community benefits from it. And we're always looking for new members. No experience necessary.
To contact the Players:
If you would like to get involved or to be kept informed, please contact us at info@hydeparkcommunityplayers.org
You can also find us on Facebook
Hyde Park Community Players is a member of Culture Coast.