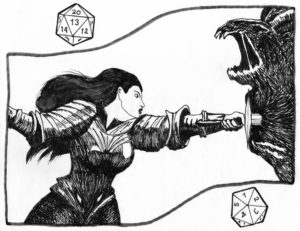 One year ago this week, we were busy putting the final touches on our Spring mainstage play,
She Kills Monsters
by Qui Nguyen (one of the writers of Disney's new movie, Raya and the Dragon ) There was lots of good publicity and enthusiasm, and we were expecting to have big audiences for the popular new play.  Director Meara MacGregor had cast a bunch of talented actors, and was excited to try out puppetry, cosplay costumes, stage combat, projections and special effects with her designers….Then you know what happened—the world paused thanks to COVID-19. We closed early, doing only our first weekend, with small, socially distanced audiences. Many of our HPCP members, friends and loved ones never got to see this great production. It's time to correct that!
Please join us to view a live-streamed recording on YouTube this Saturday, March 13 at 7 CST:   She Kills Monsters (the play proper begins at 21:10 in the YouTube show.)
Come early for a photo slide-show.
Synopsis: Agnes Evans is grieving for her deceased sister. The Evans sisters never were especially close, but after Tilly's death Agnes finds a Dungeons & Dragons game scenario created by her sister, Agnes recruits a "dungeon master" named Chuck to unlock the secrets of her mysterious sibling by playing the game. Chock-full of cruel elves, dominatrix warrior women, ogres, and miscellaneous monsters, it's a surprisingly sweet tale of friendship, loss, and acceptance.