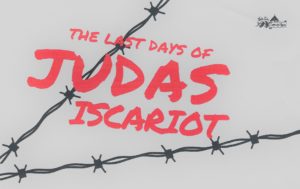 They were not pretty.
The retrial on appeal of Judas Iscariot.
A seriocomic exploration of questions like: What is evil?  Who decides who is a "villain"?  What separates a person from God?  Is there a God?
The Last Days of Judas Iscariot
by Stephen Adly Guirgis
directed by Leslie Halverson
The show will run the weekends of March 1-3 and 8-10.
See our blog for cast interviews!
Watch this space for more information soon.