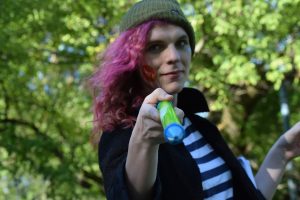 Today we catch up with Maxine Morey, who plays Feste. Maxine last appeared with the HPCP in The 25th Annual Putnam County Spelling Bee, and was part of the props team for An Ideal Husband.
Q. So, what made you decide to audition for Twelfth Night?
MAX: My life is a constant battlefield between theater and "real life worries," each vying for my time and attention. When auditions for Twelfth night came around, Theater had an upper hand and so I plunged back into the fray. Also, I trust Leslie to direct well and I wanted to be a part of her production.
Q. I have to tell you, Feste is my favorite character in this play. I've always felt as if there's something fundamentally different about Feste–as if Feste maybe knows that all this is a play and sort of pities the other characters for not understanding that. How do you think Feste relates to the other characters? What is it that Feste sees or knows that they maybe don't?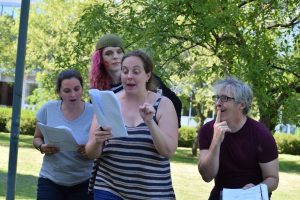 MAX: Simply put, I see Feste as a character that uses their sympathetic skills of understanding intent to find a living in a hostile world. In a more elongated fashion, I see in Feste a character that makes it their business to know what everyone else wants, and their abilities to attain their desires, while simultaneously obscuring Feste's own intents, clinging to as much power as their lot in life will allow, just to survive. I do not think Feste can see beyond the fourth wall, I think they just pay attention. I do agree there is a degree of disdain in their actions, though.
Q. I gather from your pronouns that you see Feste as nonbinary? What role do you see Feste playing in this production's story about gender and gender roles?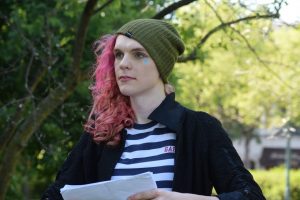 MAX: Our modern term of "non-binary," rooted as it is in contrast to our modern binary cannot be applied, as gender worked differently in Shakespeare's time. (Castrati, "men-only" theater casts, Beccadelli's 'Hermaphroditus'°, Sonnet 20, etc–crass, but acknowledging the existence of intersex people, which is more than modern texts can claim.) So my gender neutral pronouns are a rather unscholarly anachronism/ modern interpretation I'm applying to Feste, more because I want to because I'm playing them than because of any well constructed scholastic argument. (That's just too much work to do for free.)
The role I see Feste playing in this production, though? The resolution of Feste's character arc is cut, along with a few more of their scenes, so it's a little… wibbly, but I see Feste as a character comfortable in their ambiguous gender presentation.
Q. You talk about Feste as a survivor using all their skills to navigate a hostile world. How does Feste's music figure into that?
MAX: The cheating answer is that Shakes had a new fool that was really good at music that he wanted to show off, but…I'd honestly say the singing's not terribly special. The two times we see Feste singing in the confines of the play (with "Wind and Rain" going Right out the fourth wall) they do so for coin. I think it's just one of their skills, with the wealthy folk they spend their time with not bothering to take the time to memorize lyrics and melodies and learn instruments. Yes, music and art are often outlets for emotion, but (barring 'wind and rain') Feste just sings pop songs about young lovers that they know people would enjoy.
Also, while this isn't my interpretation, there's loose grounds for seeing Feste as a grown church singer (perhaps castrati) that just… had this musical background outside of choices they made. (They [Feste] are not nearly religious enough though, and also I don't think this theory would stand any scrutiny, though it would explain their education. But that can be explained many ways)
Q. You've obviously done a lot of research to prepare for this role. What are some of the aspects of Feste that have emerged during rehearsal?
MAX: With the cut of the dungeon scene, it's pretty evident that Feste played a pretty passive role in their revenge on Malvolio/a. And looking at other scenes, Feste is largely a more passive character than I realized in the early readings.
Q. When I was talking with Leslie I asked her about the ending, and the fact that a lot of the characters don't get what they've spent most of the play wanting. You mentioned that Feste doesn't reveal their own desires. Do you know what Feste wants? Do you think Feste gets it at the end?
MAX: To be honest, I'm not 100% sure what Feste wants. (Well, outside of throwing a colossal middle finger at Ol' Mally for calling them a 'common fool.') But I don't really think Feste knows either; I don't really think that Feste has any Grand Desires that they fervently chase.
Q. Is there anything you would like to tell people before we wind up? Favorite non-Shakespearean fool, favorite instrument you play in this show, favorite flavor of ice cream, whatever?
MAX. Well, of course my favorite instrument is ukulele.
Susan Harris with Maxine Morey