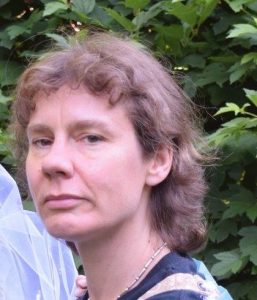 Today we catch up with Sasha Austin, who plays the Sailor and (sometimes) the Captain. Sasha's first role with the HPCP was in Murder, You Must Be Kidding?. Sasha played Prospera last year in our first outdoor Shakespeare show, The Tempest.
Q. What was your relationship with Shakespeare like before The Tempest? Has doing outdoor Shakespeare changed the way you think of him or his work at all?
SASHA: Shakespeare has always been intimidating for me. I was especially intimidated the year I was in a 'Macbeth' that used machetes! Even though it is challenging to perform outside, I feel closer to him than I would in a modern theater. Outside there is no architecture to remind me of 2017.
Q. Playing the Sailor/Captain must be a slightly different experience from playing Prospera last summer. What are the perks of having a smaller part?
SASHA: The salient difference is a few hundred lines, so memorization is easier. Since the Captain doesn't have any influence on the plot or the other characters, I have a lot of freedom to choose how I want him to be. It is my job to make him count while he is on stage, and I like that challenge.
Q. You were part of the first full-length play the HPCP ever did, back in 2010. How has the experience of being in an HPCP show changed since then?
SASHA: More is happening every year now than in 2010, and there are traditions, like the fun Evening of Horror and Suspense, which people can count on. HPCP has always been extremely welcoming. It is a jewel of Hyde Park.
Q. What are your favorite and least favorite things about performing outside?
SASHA: I like grass. I think Shakespeare, in many ways, was a down-to-earth guy, so every step reminds me of that.
I am very aware of sound, so sometimes I struggle to concentrate on Shakespeare's English instead of Chicago's English. Luckily, the Captain has been through a lot and leaves quickly, so he doesn't worry.
Last and least, I have a special relationship with that gorgeous tree on your left. Last year, I thought I was going to get struck by lightning as I was under it scaring up a tempest. A few days ago, I gave it a hug to bring me good luck for this year.
Susan Harris with Sasha Austin