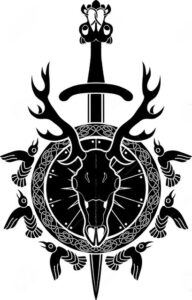 The Hyde Park Community Players are excited to bring to Nichols Park, Shakespeare's classic tragedy
Macbeth
Coming hot off the heels of a victorious battle, the Scottish thane Macbeth happens upon three witches and receives a prophesy, or perhaps a curse, that he will soon become king. The wheels of fate set in motion, Macbeth and his lady wife embark on a mission to make it happen, leaving a trail of bodies in their wake, and losing themselves in the process.
Two weekends, Friday through Sunday,
July 14-16 & 21-23
6:00 pm each evening.
Admission is free and open to the public. 
We will pass the hat for your generous contributions to help us make more great theater.
 

What's done cannot be undone.
Content Warning: Violence, including onstage murder and fake blood; reference to suicide.