A Worldwide Storytelling Event
The Players' friend Judith Heineman (who recently appeared in the reading of The Resistible Rise of Arturo Ui as the Irish investigator O'Casey) has been producing this festival for 20 years, and this is her final year at the helm.
You can make your reservations for Tellabration through Eventbrite.
Only 100 seats for evening venue – Reservations necessary-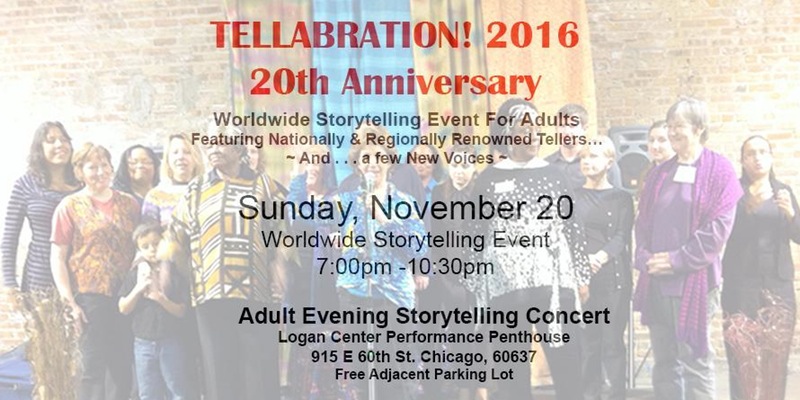 Here's more on the event:
The Evening Adult "concert" at The U of Chicago's stunning Logan Center Performance Penthouse, 915 E 60 St, features internationally acclaimed musicians and Storytellers including: In the Spirit: Emily Hooper Lansana & Zahra Baker, Loren Niemi, Anne Shimojima, Peter Cook, Tom Kastle, Nestor Gomez, Megan Wells, Shanta, Jim May, Vicki Elberfeld, Scott Whitehair, Mama Edie, Jasmin Cardenas, Suzie Garfield, The Chicago Folklore Ensemble – a string quartet and Storyteller led by Lucia Thomas with violinist Robert Fisher who appeared in our 1998 Tellabration! drummers, Nancy & Barry Schultz, Judith Heineman, MC, producer. Sign Language Interpreters headed by Vera D. Washington.
Don't miss this extraordinary "Festival in a day"
With the most accomplished story artists and musicians anywhere to be found. They are Moth winners, edgy fringe denizens, world class musicians, classic multi-cultural World Folklore tellers sharing their generous hearts, gorgeously crafted stories- personal and literary- in engaging diverse styles and genres.
Anniversary cake and more, served during intermission. Browse artists' works and new books for sale signed by Jim May, pre-orders for Kathryn Gauthier and Gloria Needlman.
Don't miss a word! Suggested Donation $20.
This year's Tellabration! is dedicated to John Berquist, Scandinavian musician, folklorist longtime Chicago storytelling Guild member and Tellabration! performer, from Northern MN, who was also my musician partner of 8 years when he lived in Chicago. John recently died of pancreatic cancer. He will be missed but surely his indomitable energy will march in our traditional opening parades! Make noise with us! Bring instruments!!
DO make a reservation! Questions, Info, Reservations- email Judith.