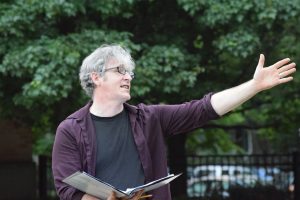 Today we catch up with John Poole, who first appeared with the HPCP as Berenger in Rhinoceros. John also wrote Oedipus! The Musical, the first full-length original work the HPCP ever produced.
Q. It's good to see you back! What have you been doing since Oedipus!: the Musical?
JOHN: Trying to be a stepparent, writing and eating Indian food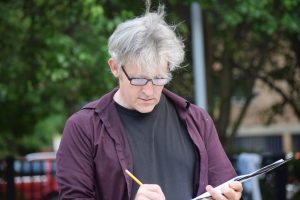 Q. Living the dream, in other words. Do you want to talk about what you're writing now?
JOHN: A musical about prostitution in Chicago during 1910, based on a research study funded by the city and progressive force.
Q. Is this a 1910 research study?
JOHN: Yes.
Q. That must be fascinating.
JOHN: Absolutely. The world they describe is amazing, and to have such a personal account to use to tell a such an important story….I think it will illuminate an important aspect of the world of sex workers, despite its hundred years' distance from us.
Q. I look forward to hearing more about it. I'm trying to find a good segue here for a question about Sir Toby, but they all involve Elizabethan insults…my guess is Sir Toby isn't the first Shakespearean character you've played. Is there anything about Sir Toby that stands out as unusual or different, compared to some of his other comic characters?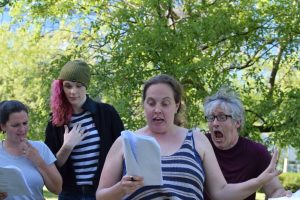 JOHN: I don't like him.
Q. Why not?
JOHN: He's a jerk, a user and a drunkard. Is that too obvious? Shakespeare never gives us a reason for his bad behavior; he's just a grown up mean version of Wooster, innocent of cause yet troublesome to all. I've always had sympathy for Malvolio. Oops. Malvolia.
Q. I don't think anything's too obvious when we're dealing with Sir Toby; he doesn't seem to have been designed with hidden depths.
JOHN: I agree. He's got a way with words, but he's a frat boy, bless him.
Q. You know, except Shakespeare would have someone make a joke about the size of his stomach at this point.
JOHN: Not me. I'm trying to lose weight
Q. So what do you do with a character you don't like? How do you want the audience to respond to him? When they laugh at him, what are they going to be laughing about/at?
JOHN: I'm getting to like him. The play is all about Toby Belch. But every character thinks the play is all about him. I am enjoying pouring tons of energy into the scenes, gotta be loud outdoors anyway, so, get big, baby.
Q. You said you sympathize with Malvolia in this situation. Can you talk about that? I've always thought Malvolio gets a very raw deal.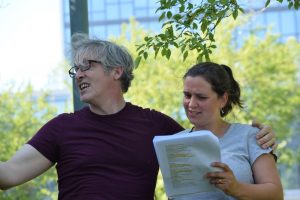 JOHN: I agree a hundred percent. So much so that I wrote two and a half sequels to Twelfth Night to get Malvolio his revenge.
Q. Seriously? What are they called?
JOHN: The Thirteenth Morning, or What Will Happen.
Q. And is it, like, Jacobean revenge-tragedy revenge?
JOHN: One is, the second is a full on comedy, the third is a modern mix of the first and some Pirandello like reflection. All have pentameter and prose.
Q. That's fantastic.
JOHN: Thank you, I have no idea if they are any good. Especially the third one, it goes to some strange places.
Q. Well, bring Pirandello to this party and things would naturally kind of get wild. Do you have any other Shakespearean sequels sitting around? As I Like it, perhaps, or All's Still Pretty Screwed Up, Actually?
JOHN: I have a prequel to As You Like It, and a plot line to a prequel to Hamlet.
Q. Is there anything else you would like people to know about you before we wrap up? Favorite thing about being a stepparent? Shakespeare play you most want to see rebooted as a horror film? Favorite flavor of ice cream?
JOHN: Everyone should watch more silent movies and never go to a comic-con with a rusty bat'leth.
Susan Harris with John Poole