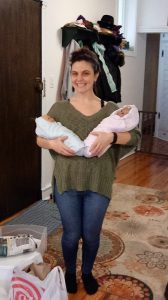 As the prop person, my active involvement in the production is coming to an end. The vast majority of the props have now been assembled; there are a few I forgot to bring yesterday, and a few that are still being tracked down by the prop elves. We don't know yet how the gravy will perform in reherasal, so there's that; and I have a bit of a premonition that I have not heard the last of the Large Cake. (It's all right. There is a Plan B.) But I digress. I was saying how the props are pretty much done.
The rest of this post, I should note, has spoilers in it. It's about the prop baby.
The Marriage of Bette and Boo calls for a lot of props. This is partly because so much of it happens in kitchens and living rooms, while people are eating and drinking. But Durang also considered the props integral to the play–as one might deduce from the amount of time he spends giving would-be directors instructions about how to deal with them. On that evidence, the prop Durang is clearly most passionately invested in is the bundle that gets dropped, over and over, by the doctor who comes in to announce, after each of Bette's deliveries, that the baby is dead.
Tragedy and dark comedy are both about the absurdity of human existence in a world of unjust and arbitrary suffering. Comedy just makes it funny. The prop baby is, to my mind, a perfect example of how The Marriage of Bette and Boo manages to get comedy out of Bette's life without betraying the tragedy in it; and although many would not hesitate to identify the dead baby running gag as the most tasteless thing about this play's humor, to me it is the most interesting thing about this play. The first time you see the doctor come out and drop the baby, it's entirely unexpected and grotesquely inappropriate, which are two things that tend to provoke hysterical-in-the-more-clinical-sense laughter. The family's reactions then become comic in themselves, as the audience recognizes their signature quirks in their individualized reactions to this absurd and hilariously unforeseen situation. So this looks like one of those Pythonesque "he's not quite dead yet" things where the joke comes from our anxiety about the relationship between life and death (we know death is permanent, yet we have a hard time really believing that; plus, in live performance an actual 'death' is indistinguishable from playing dead, so that's a whole new source of nervous laughter because we REALLY want to believe that being dead is completely different from being alive and yet it's actually sometimes really not). In fact, though, we are laughing our asses off at a profoundly tragic irony. The doctor drops the baby, not because the doctor can't tell the difference between a live baby and a dead one, but because the doctor represents the adult Matt's perspective on his own birth. The doctor is the only character in this scene who knows what Matt the adult narrator knows: the babies are always dead. In solidarity with his siblings, perhaps–or maybe out of a desire to shake the unbearable responsibility of being Bette's only living child–Matt represents himself at that moment as just another one of Bette's dead babies, no different from the ones that come after him.
As the play goes on and the hospital scene is repeated multiple times (each with its own baby drop), the spectators and the other characters (Bette excepted) gradually come to share the sense of futility and exhaustion that Matt wrote into the scene of his own birth. We/they come to understand that the doctor represents the inexorability and indifference of the universe that condemns Bette to this fate; that the characters' reactions to each death may hurt or help each other but have no effect on the baby itself; that there is actually nothing so horrible that constant repetition of it can't desensitize us to it. It's still funny; but for different reasons.
Corinna wanted to honor Durang's intentions regarding the prop baby. Durang thinks it's important that the prop baby not look too much like a real baby; he thinks that it's better if you just have a baby-sized bundle that hits the floor with a thud. We are using real baby dolls, but they're wrapped up to much you can only really see the faces. What's most important, I think, is the thud. It's funny–the word "thud" itself should communicate to you why thuds are funny–but I think it also, on a nonverbal level, conveys something about the way this feels to Bette and her family. Another hoped for and expected new arrival turns into a dead weight that hits the ground, heavily, and lies there. The assembled family members feel the impact with a kind of dull throb. The death registers as a kind of bass reverberation–felt more than heard, incomprehensible and impossible to articulate. How the death registers with Bette we don't know. She's always off stage when the baby drops.
The thud, for our prop babies, comes from a rice sock which is bundled in with the baby doll. A rice sock is a kind of homemade heating pad: you take an athletic sock, fill it with rice, tie a knot at the top, and then microwave it for about two minutes. You can then apply it to any part of your body that's sore or tight or could use some circulation. The rice sock makes the perfect thud, and it keeps the plastic baby doll from bouncing. Since it's heavier than the baby doll, it also ensures that the prop baby lands face up.
It was fun getting to hang out and make stuff yesterday; the show is just hitting that point where everything is getting real, and it's all very exciting. My relationship with the physical world has not always been cordial; so I get a charge out of it every time I make an object that does what it's supposed to do. I'm really looking forward to seeing them all in action.
Susan Harris