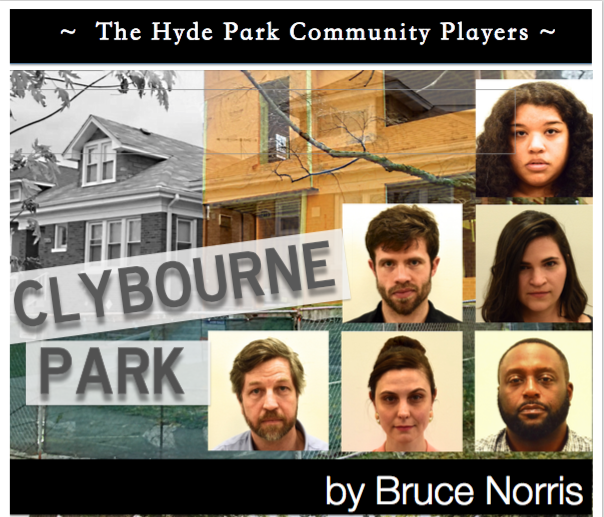 PERFORMANCES
May 12, 8:00pm
May 13, 8:00pm ($6 Student Saturday)
May 14 at 2:00pm ($7 Senior Sunday)
May 19 & 20 at 8:00pm
May 21 at 2:00pm
Regular admission for all shows is $12.
Students and seniors pay $10 except on special discount days as noted above.
Directed by Vanessa Ellis
CAST: James Allen, Paul Baker, Corinna Christman, Dan Heinz,  Mike Herring, Renata McAdams, Eric Roberts, Amelia Snoblin, Paul Upshaw,  Shonte Wesson
After the Sunday, May 14 show, we invite you to stay and discuss Clybourne Park and the issues it raises with members of the cast and crew.
"Clybourne Park spans two generations fifty years apart. In 1959, Russ (Paul Baker) and Bev (Corinna Christman) are selling their desirable two-bedroom at a bargain price, unknowingly bringing the first black family into the neighborhood (borrowing a plot line from Lorraine Hansberry's A Raisin in the Sun) and creating ripples of discontent among the cozy white residents of Clybourne Park. In 2009, the same property is being bought by a young white couple (Erick Roberts and Amelia Snoblin), whose plan to raze the house and start again is met with equal disapproval by the black residents of the soon-to-be-gentrified area. Are the issues festering beneath the floorboards actually the same, fifty years on? Bruce Norris's excruciatingly funny and squirm-inducing satire explores the fault line between race and property.
Clybourne Park is the winner of the 2011 Pulitzer Prize for Drama, and the winner of the 2012 Tony Award for Best Play."