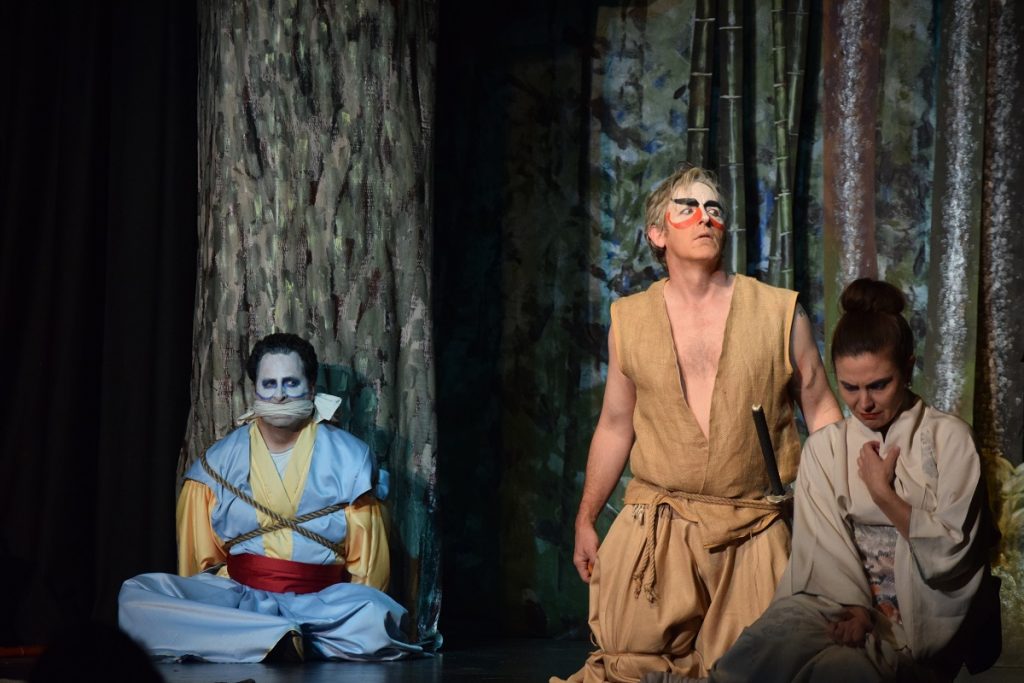 The first weekend of Rashomon has come and gone. But there's a second weekend coming up! November 17-19, 8pm on Friday and Saturday, 2pm on Sunday. Tickets are $12/ $10 students and seniors in advance, $15/ $12 at the door. (We are aware there were some issues with online ordering for the first weekend. We apologize for the inconvenience. The ticket form should now be functioning correctly. If you experience any difficulties with it, please email us and let us know.)
With all the craziness that the final push always entails, I have to say that I love being in this show. Though I'm sad that the new people cast had to withdraw, I'm also really glad to be doing the show with so many talented people whose work I have long admired. I feel very lucky to get to spend so much time watching them work. It is a real education for me.
Tech week is always nuts and there's always stuff that goes wrong; but as exhausting as it is, getting to rehearse that many times in a row really helps. For this show, there was the added bonus of seeing the thing come together visually, with the set, costumes, and makeup all emerging over the course of the four days leading up to opening night. I don't think we've ever done a show where the makeup was this important to the overall effect. The makeup was designed by Gracie Snyder, who was last seen as Jennet Jourdemayne in The Lady's Not For Burning. Gracie applied it to us on opening night; thereafter we were on our own. I guess I am a real actor now that I have become familiar with the actual smell of greasepaint. The Medium has different makeup from the Mother, which makes intermission an exciting time for me. Sunday I was frantically smearing myself with white stuff while Adam was asking if they could turn the house lights off now and I said, "I just have to do my eyes and my hair and then I'll be ready," and I thought, now there is a sentence I have never uttered before in my entire life.
Anyway, my point is: in addition to all the good work everyone's been doing with the fighting, the crying, the angst, the existential crises, the comedy, the show looks great. Here, have some more of Shonte's photos of the trio on the set. And come out and see us do this show this weekend!