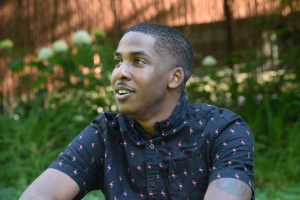 Today we catch up with Booker Vance, who played Ferdinand in the HPCP's The Tempest last July. Booker is a rising junior at Morehouse College.
Q. So, you are a veteran of our very first outdoor Shakespeare play. Does it feel any different the second time around?
BOOKER: Yes. It is a younger ensemble this time and the process is much more collaborative. With The Tempest, we'd often have rehearsals only with the people from our scenes until the last few weeks leading up to the show. But with Twelfth Night, I have gotten to know my castmates more by being together in the rehearsal process.
Q. When I interviewed Hannah and Stephanie, they talked about how their characters get frustrated with Orsino's constant moping over Olivia. What do you think makes it so hard for him to let go of Olivia?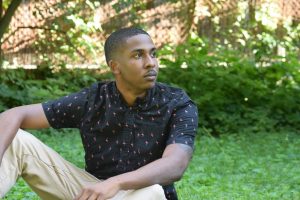 BOOKER: Haha, my take on it is that Olivia is the one woman that Orsino knows he cannot have and that kind of drives his want. But also the fact that he overthinks everything makes things worse, because it comes off that he's trying too hard.
Q. Does getting to know Viola/Cesario help him with the overthinking?
BOOKER: I think it becomes a convenient distraction, because there's a genuine connection between Orsino & Cesario (Viola). But at the same time, he's still trying to use Cesario as a pawn by getting him to plead his case for love to Olivia.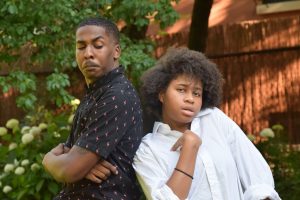 Q. Is Orsino in love with Cesario or Viola or both? Is he going to miss Cesario at all once he's married to Viola?
BOOKER: Both. He sees Viola within Cesario so spiritually there's is an attraction. But part of the issue with Orsino is that even though he has people around him, he is still much of a loner. So the company aspect of the Cesario character appeals to him too, to the point where he kind of just seeks affection from wherever he can. Like, if I can't be with the one I love, I'll love who I'm with / around. Cesario is the closest to him and I think the friendship he will miss; but the essence will most likely be still there with Viola once they are married.
Q. Are you doing theater while you're at Morehouse? If so, can you tell us about some of your favorite shows or roles?
BOOKER: Yes. That's my major. I've done mostly drama down at Morehouse. I've been in a few shows, but I'd have to say that my favorites were Miss Julie and The Bluest Eye. Both of them were this year. In Miss Julie, I was an understudy for the male lead Jean; but fortunately we were able to have our own show, and that was just a fun ride (36 pages of dialogue between 2 characters). And The Bluest Eye was the play that I did this past spring. I played Cholly, the main character's abusive, alcoholic father. Dark role but I did a lot of psychology research to really delve into it. Those are my two favorites.
Q. Those are both really difficult roles. Congratulations for pulling them off!
BOOKER: Thank you! Just trying to tackle different characters outside of my comfort zone.
Q. Does the work you did on psychology for those two characters come into your work on Orsino at all, or do you find you have to approach Shakespearean characters differently?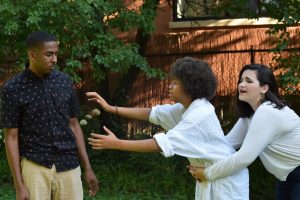 BOOKER: Sort of. I start off by breaking down the language, that's something that Leslie has been emphasizing with us – to always know what you're saying and why. Once I know what I'm saying, I know the intention and how to play the scene. But as for the character, I draw from personal experience and hypotheticals. For example, how would I feel if I liked someone but they kept dodging my every effort to communicate those feelings. And what if I had a friend who was in a position closer to that person to relay the message. But then I start liking them too. In acting class we learned "the Magic If".
Q. Ah, Stanislavski. I am a big fan of the magic if also.
BOOKER: It's a great method!  You might get crazy sometimes. But it pays off!
Q. Is there anything else you'd like to tell people about yourself before we wrap up? Favorite Shakespearean actor, favorite class at Morehouse, favorite flavor of ice cream, whatever?
BOOKER: Hmmm. David Tennant is a beast. I found out about him through Tumblr but I've seen clips from him doing Hamlet and Much Ado. He's probably my favorite Shakespearean actor. Favorite class at Morehouse was this English course I took my freshman year–English 201–because my professor took an angle of examining minority relations in America: African-Americans & South Asian Americans, how does it feel to be a problem? It was pretty insightful. And as a child I was always told Vanilla isn't technically a flavor so I wasn't allowed to have it lol. But that flavor as well as Cookies & Cream are the GOATs. As in Greatest Of All Time.
Susan Harris with Booker Vance