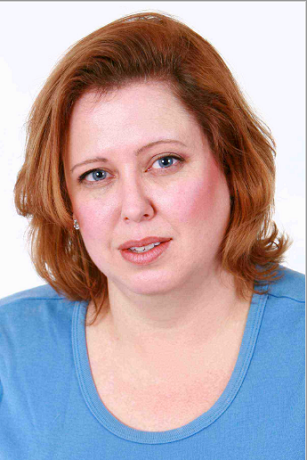 Laura MacGregor directs Jane Martin's 
Anton In Show Business,
 May 11-13 & 18-20 at the University Church 
(
TICKETS
).
 Laura has directed numerous shows for the HPCP, including "Bittersweet Love
", Les Liaisons Dangereuses
, and 
The Tempest
. Her most recent acting role with the HPCP was Ruth Steiner in
Collected Stories
.
Q. When did you first encounter Anton in Show Business, and what made you want to direct it?
Laura: I read it first in a really fantastic anthology called Leading Women: Plays for Actresses 2. Incidentally, that's also where I first read our recent play, Collected Stories.  Even reading Anton, I laughed out loud, and I immediately started using one of the speeches as an audition monologue. The author and all the characters seem to know deep in their hearts that theater is a bad bet as a profession, (especially for an actress), but they just all love it so much, they can't help but hope for a happy ending.  Variety's review had a perfect description: "Simultaneously a love letter and a poison pen letter to the American theatre."
Q. I was recently asked by someone why American actors and directors love Chekhov so much. What's your answer to that question? What's your own relationship to Chekhov like?
Laura: Well, I think Chekhov was significant when he wrote because it was truly something new–they were tragicomedies, and they are about ordinary people but used beautiful language.  But most of all, his characters were subtle and psychologically complex, calling for nuanced, naturalistic performances (and this was a time when the Russian acting style was quite overblown and stylized–Stanislavski's acting method was a reaction to that).
But why do American theaters love him so much?  Seattle Times critic Misha Berson wrote a very insightful opinion piece on just that question: "We have more than enough fairy tales of wish-fulfillment and revenge. What Chekhov presents to us, tenderly and harshly, is truth. The hilarious, absurd, thorny truth about human nature, in all its infectious joy and self-sabotaging blindness."  In a nation of striving moralists espousing self determination and hard work, maybe we Americans sometimes need to admit that Walt Disney is wrong, and not all dreams come true.
I fear this will out me as a cretin, but I do not love Chekhov.  I'm guilty of being a bit of an Anglophile in my literary favorites (adding American playwrights to British Isles.) Maybe they are translation issues.  Many of us had a field trip to DePaul University Theater to see a lovely production of Three Sisters last month, and there were definitely moments that genuinely moved me. But, in general, give me Wilde or Shaw for wit and social commentary, and Williams or Inge for tales of longing and loss.
Q. We've only ever dealt with the lighter side of Chekhov's work–in our first season, Corinna directed The Bear, and then years later Bill directed Neil Simon's adaptation of Chekhov's short stories, The Good Doctor. Three Sisters has its comic moments, but it's not the same kind of comedy. What do you think Three Sisters means to the actresses at the heart of this play? Why do they think it's so important to find a way to put this on, despite all the hilarious obstacles and setbacks?
Laura: Well, director #1 in our play, Ralph, thinks 3 Sisters is "funny, funny, funny, tragic." Three Sisters means different things to the different characters– and not just the actresses (for instance, the hilarious costume designer totally gets it.)  Holly, the starlet, doesn't really care about Chekhov.  She just wants to show she's a legit actress by doing classical theater.  I think she wants to make the show happen to prove herself, but also because she's really become attached to her "sisters."  Casey and Lisabette have deeper connections to the play, and to theater in general.  And their dynamic has its own little tragedy: while it's a beginning for Lisabette, it might be a last shot at making a living as an actress for Casey.
Q. So this is a comedy about Chekhov, but it's also a comedy about theater. What is it about theater that you think Martin gets to the heart of in this play? 
Laura: First, she understands that it's a calling.  Her characters all fully understand how foolish it is to keep trying to live this life, but they keep hoping against hope.  They will do anything to make it happen, including literally and figuratively whoring themselves.  She loves jokes about the theater, and the meta nature and asides definitely make me giggle.  This is the story of a play, within a play within a play.
Martin chooses Three Sisters as the play they're doing because it's about doomed dreams and sisterhood, but the truth is, these characters aren't just striving to create a single theater piece: they are trying to Make Theater, writ large.  They want to create the perfect symbiosis of words, performers and audience, and imagine it will have some near magical power.  That might sound ridiculous, but I want it, too.
Q. Cross-gender casting has long been a fact of life at the HPCP, but this is the first show we've done where the author insists that all roles, including the male ones, have to be played by women. Why do you think Martin made that a requirement? What would be different about this show if she hadn't?
Laura: When we produce the greats of western theater, gender imbalance is a constant frustration.  We have way more female talent, way less female roles.  Martin tells us exactly why she did it: by having women play men, she is satirizing the lack of female roles, and redressing the problem. I was personally thrilled to have so many parts for actresses in this play–though I still had to turn down a bunch of really gifted actresses.  Clearly, we need to keep doing plays with ample roles for women.
In addition to the pragmatic/political point, Martin is also making a play about sisterhood, and that wouldn't feel the same with male actors in the mix.  At the end of Three Sisters, all their hopes are dashed, compromises are made, but their bond sustains them, and that is our ending, too.
Q. What's your favorite thing about directing a comedy?
Laura: The same as acting in a comedy: instant gratification!  You don't necessarily know what's working in a tragedy.  Audience members aren't noisy when they are moved.  But they let you know right away when the joke worked, and that is so incredibly energizing.
Q. Is there anything else you want the audience to know about Anton in Show Business?
Laura: Mainly that it's really funny.  I've talked here about all the serious underpinnings, but the truth is, you don't need to experience it that way.  These women are just hilarious characters.  So please, come laugh with us. Also, in the spirit of this very "meta" play we have another layer of self-referential theater jokes:  see if you can find the references to our Hyde Park Community Players' past productions!
Laura MacGregor with Susan Harris