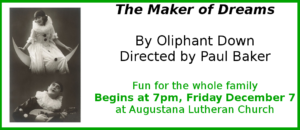 Directed by Paul Baker
The Maker of Dreams by Oliphant Down 
 This musical fairy tale features Pierrot and Pierrette, living unhappily ever after together.  But a stranger arrives to help with magic, riddles, and poetry.
With original music by Bill Hohnke
7 pm Friday, December, 7 at Augustana Church (5500 S Woodlawn.) $5.  Stay for goodies and discussion after the play.  Please note the earlier start time!  This will be a performance for the whole family.