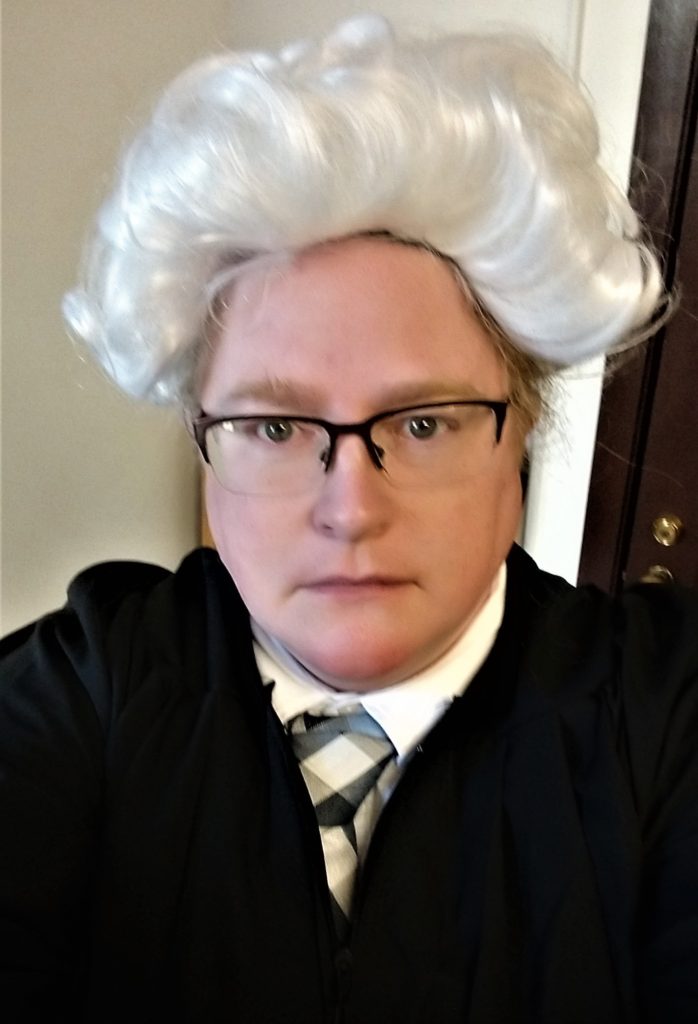 Though it happened entirely by accident, it is fitting enough that our refresher rehearsal for The Last Days of Judas Iscariot is taking place in a church on Ash Wednesday. Stephen Adly Guirgis's play is a kind of a modern Biblical seriocomic courtroom drama in which Guirgis imagines a defense attorney appealing Judas's sentence of eternal damnation at the court of Hope, which is located in downtown Purgatory. Throughout the play, Judas's self-appointed defense attorney (Fabiana Aziza Cunningham) and the even more self-appointed attorney for the prosecution (Yusef El-Fayoumy) call a motley crew of witnesses to testify about Judas's innocence or culpability. Some knew Judas and were deeply involved in the events that led to his death; others, from later periods in history, are brought in as expert witnesses. Interwoven with the courtroom drama is a sequence of monologues by saints and mortals who examine the questions raised by Judas's last days from a less secular point of view. My character, Judge Littlefield, presides over the trial from atop a 'bench' built out of discarded furniture. But that's the only sense in which he can consider himself above it all. As Cunningham tells him early on, Judge Littlefield is just as far from God as anyone else in Purgatory.
It's hard to describe this play in a way that conveys how fucking hilarious it is. (Please be advised that there are many, many gratuitous F-bombs, and other profanities, in The Last Days of Judas Iscariot.) I have never had to work so hard to keep a straight face on stage. Guirgis creates situations that are unexpected and absurd; his dialogue is irreverent, outrageous, and crackling with ironic anger aimed at a profoundly unjust world. Littlefield is a comic character, and his courtroom is a joke. Like our existing justice system, the court of Hope has long ago failed either as a place where the truth can be established or as a means of dispensing justice. It offers, not hope, but a cheap and flimsy illusion of it. A lot of the humor in the courtroom part of this play derives from the contrast between Cunningham, who takes this case very seriously, and El-Fayoumy, who treats the courtroom as if it's the set of his own reality TV show. But comedy often comes from pain; and pain in this play is both funny and tragic. Sometimes simultaneously.
Judge Littlefield is not a good person, and he's a terrible judge. As you might expect from a Confederate army officer who died on a battlefield in 1864, he's an unreconstructed bigot and an unrepentant misogynist. He is myopically focused on procedure, having long ago given up on substance; and he's so wedded to his routine that it literally takes an act of God to make him vary it. I don't think Guirgis meant him to have a redemption arc and I don't try to give him one. Nevertheless, since Littlefield is on stage for almost the whole play—often without a lot of dialogue–I have had a lot of time to think about ways to make him more interesting to watch. I decided at some point that Littlefield, being very self-centered, doesn't care what happens to Judas, but cares a lot about what's going to happen to him. He becomes invested in the trial in terms of what it might reveal, not about Judas's fate, but about his own. Littlefield and Judas have more in common than he cares to acknowledge: they're both traitors, and they've both succumbed to despair. Both of them seem to be on pretty familiar terms with Satan. So as rehearsals went on, I tried to develop reactions for him based on that premise: he's paying attention—when he pays attention—for the sake of what the trial might tell him about how to get out of Purgatory, where he has been languishing for over a century, and closer to a God that he seems to believe in, but whose presence he evidently can't feel.
So I was thinking about this one day when we were rehearsing Cunningham's cross-examination of Satan. As RJ says in his introduction, he plays Satan as a truth-teller. Satan gets a charge out of telling his victims the truth in such a way that they will refuse to accept it. During the back and forth with Cunningham, Satan says, "God loves everyone." He says it, deliberately, in a way that makes Cunningham furious. The thing is, though, Satan is not the only character in this play who delivers that message. We hear it at the very beginning, when Judas's mother insists that a loving God would not send her son to hell; we hear it from St. Monica, who agrees to intercede on behalf of God's "leastest creature;" we hear it from several apostles, who seem bewildered by Jesus's ability to love them as they were. Satan happens to be the only character who says it at a time and place when Littlefield can hear it.
So, I thought, what if Littlefield hears this and is actually able in that moment to believe it? Having died alone in disgrace and despair, having been stuck in that place for a hundred and fifty five years, could Judge Littlefield bring himself to believe that God really did love him? So I tried it out. And I have no idea whether I'm actually conveying this, but I've decided that for a few moments, he does allow himself to imagine being loved by God, and that's the closest he's ever come to heaven. He becomes—for a few moments—capable of seeing Cunningham as a fellow human being and of treating her with something like compassion. And then his old habits of contempt and resentment reclaim him, and the moment's over.
For me, that experience in rehearsal really defined what this play is about. Like a lot of LGBT people my age, I have had the experience of being denied God's love by the very people who have made it their mission to proclaim it. But even if you have no relationship to Christianity, organized religion, or faith, you still have a stake in the question that so many of these characters are asking: am I, could I be, loved? Even if I'm a coward, even if I'm a traitor, even if I've betrayed someone I loved? When Satan really wants to fuck someone up in Judas Iscariot, he does it by convincing them that the answer to that question is no. He's very good at that. But Guirgis doesn't let him have the last word.
Anyway. I feel lucky to have had the chance to be part of this show, and to go on this journey with Leslie and with a very talented and committed cast that includes a lot of old and new friends. People really love being in this play, and from what I can tell from our first weekend, people also love watching it. Come out and see us this weekend (7:30pm Friday-Saturday, 2:00pm Sunday) at the University Church.
Susan