For our 10th Evening of Horror and Suspense, we celebrate the history of our longest-running production by offering two different Evenings, each featuring beloved stories from previous seasons. Directors of the previous Evenings of Horror and Suspense (Nora Davis, Terrie Vasilopoulos, Bill Hohnke, Mary McCarthy, Vanessa Ellis, Amelia Snoblin, and Shonte Wesson) recommended their favorites, and we narrowed it down to 12 stories that represent the history of the show. For the first few years, the program consisted mainly of classic short stories adapted for 'radio' by HPCPers. After a few years, we transitioned to doing vintage radio plays which had been written specifically for the classic radio shows of the 1930s and 40s. An Evening of Horror and Suspense 10 dedicates one night to each phase of the show's evolution. Friday, October 25 features adaptations of classic horror stories; Saturday, October 26 we perform vintage plays from the golden age of radio. Both shows take place at the University Church (5655  South University Avenue) and begin at 7pm.
This post introduces you to Friday's show, GOTHIC BY GASLIGHT. Read about Saturday's show here.
FRIDAY, OCTOBER 25 — GOTHIC BY GASLIGHT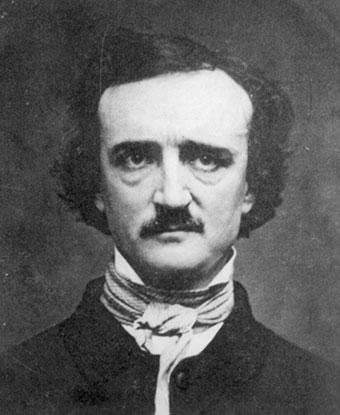 In reviewing the history of An Evening of Horror and Suspense, no author's name came up more often than that of Edgar Allan Poe (1809-1849).  As a critic, editor, and poet, Poe's work had a tremendous influence–especially in France, where his defense of art for art's sake made him an inspiration to symbolists and surrealists. I myself was given a collected edition of Poe's short stories in my young adulthood and burned through all of them–even lemons like "Metzengerstein" and "Never Bet the Devil your Head." The son of two stage actors who died young, Poe had a difficult childhood marked by conflict with his foster father and perennial problems with debt. After getting himself thrown out of West Point, Poe moved to Baltimore, married his thirteen year old cousin Virginia, and worked as an editor for a number of prominent literary journals while writing and publishing his short stories. In 1847, Virginia died of tuberculosis. Two turbulent years later, Poe died in Baltimore in 1849 under circumstances which remain mysterious.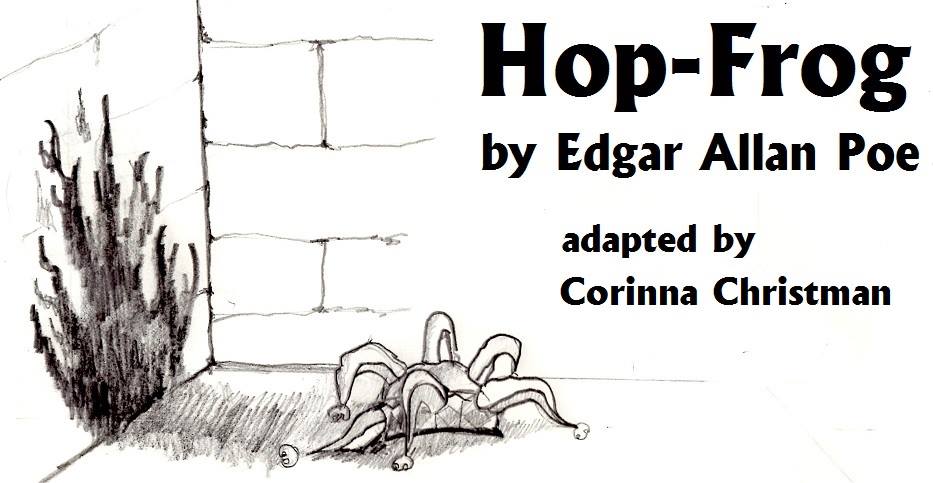 "Gothic by Gaslight" features four works from Edgar Allan Poe, drawn from different stages of Halloween show history. Our very first Evening of Horror and Suspense (directed by Nora Davis and Terrie Vasilopoulos) included Poe's 1846 tale of revenge, "The Cask of Amontillado," a tense two-hander featuring some distinctive and chilling sound effects.  (Terrie was unable to recover her original script, so for this show I re-adapted the story.) For EOHAS 6, director Vanessa Ellis included Tom McKnight's 1947 radio adaptation of Poe's 1843 short story "The Black Cat" (directed for this show by EOHAS legend Bill Hohnke).  Corinna Christman adapted Poe's horrifying 1849 story "Hop-Frog" for EOHAS 4, in which Shonte Wesson made her Halloween show debut as the title character. Shonte has since directed the Halloween show twice; for EOHAS 8, in 2017, she adapted Poe's well-loved 1845 poem "The Raven" as a drama for four voices.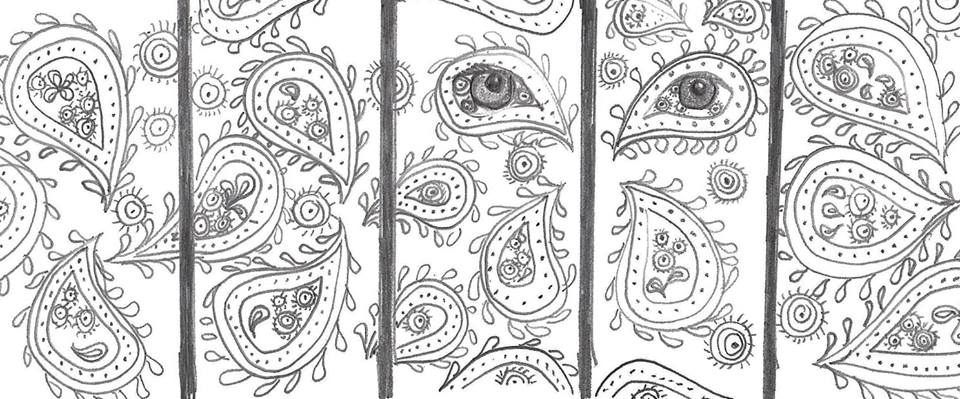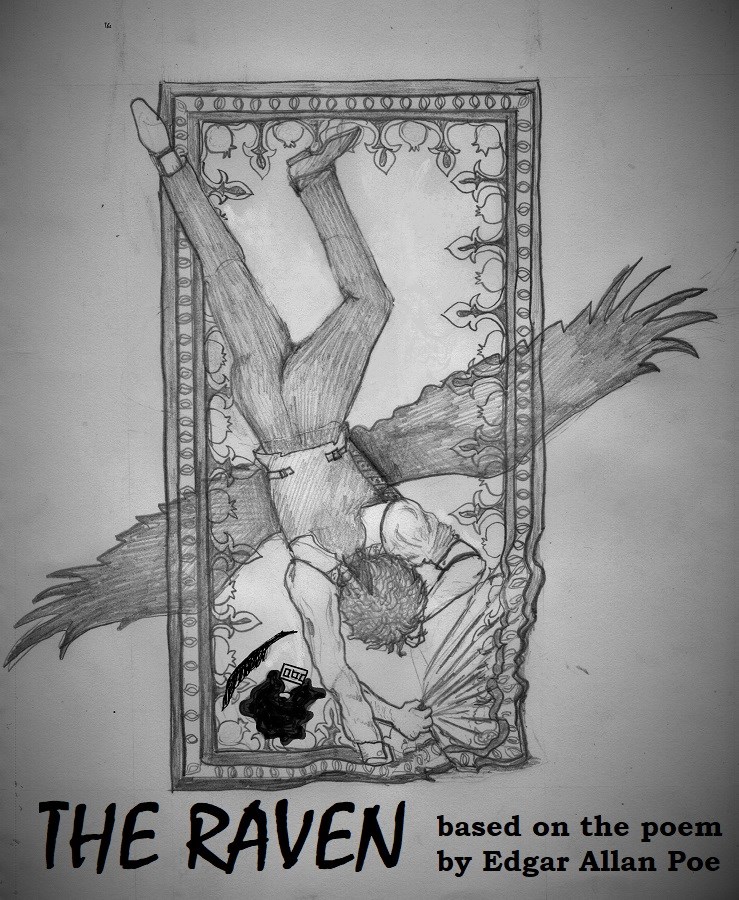 Rounding out this evening of psychological horror are two stories of obsession and madness from late nineteenth-century authors: Charlotte Perkins Gilman (1860-1935) and Guy de Maupassant (1850-1893). Gilman–a novelist, feminist, activist, and utopian–is probably best known for her 1892 short story "The Yellow Wallpaper," in which Gilman transformed her experiences as a wife and mother in a patriarchal society into the chilling narrative of a woman driven mad by a repressive and toxic environment. Paul Baker adapted the story for EOHAS 2, directed by Bill Hohnke. Corinna Christman, who played Jane in that production, directs "The Yellow Wallpaper" for this show.
Guy de Maupassant is best known in France for his naturalistic short stories, many of them scathing indictments of the hypocrisy and cruelty of nineteenth century French society; but he also wrote tales of horror and the supernatural. At some point in high school French class I was assigned his 1884 story "La Chevelure," in which a visitor to an asylum learns the bizarre history of a madman obsessed with a lock of hair. "Locks," my translation/adaptation of "La Chevelure," was first performed in EOHAS 2, directed by Bill Hohnke.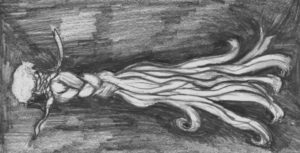 The evening will be enriched and enlivened by musical interludes from the Hyde Sisters, messages from our sponsors, and the golden voice of Chris Skyles as Your Host for the Evening. We invite you to join us for a reception following the show. Children who attend in costume receive a free Halloween goodie bag.
Come enjoy an evening of madness and melodrama featuring performances by Jeanne Alexander, Rodney Baggett, Rob Carhuayo, Marilyn Cavicchia, Marcella Ellis, Leslie Halverson, Michele Heinz, Zoe Harris, Katie Hendricks, Tyler Kaplan, Romana Khan, Dave Lashway, Chris Makel, Derek Miller, Andre Payne-Guillory, Kim Shaw and Amelia Snoblin!
Susan Harris