BUY TICKETS TO AN EVENING OF HORROR AND SUSPENSE 10
For our 10th Evening of Horror and Suspense, we celebrate the history of our longest-running production by offering two different Evenings, each featuring beloved stories from previous seasons. Directors of the previous Evenings of Horror and Suspense (Nora Davis, Terrie Vasilopoulos, Bill Hohnke, Mary McCarthy, Vanessa Ellis, Amelia Snoblin, and Shonte Wesson) recommended their favorites, and we narrowed it down to 12 stories that represent the history of the show. For the first few years, the program consisted mainly of classic short stories adapted for 'radio' by HPCPers. After a few years, we transitioned to doing vintage radio plays which had been written specifically for the classic radio shows of the 1930s and 40s. An Evening of Horror and Suspense 10 dedicates one night to each phase of the show's evolution. Friday, October 25 features adaptations of classic horror stories; Saturday, October 26 we perform vintage plays from the golden age of radio. Both shows take place at the University Church (5655  South University Avenue) and begin at 7pm.
This post introduces you to Saturday's show, TERROR IN THE TWENTIETH CENTURY. Read about Friday's show, GOTHIC BY GASLIGHT, here.
SATURDAY, OCTOBER 26–TERROR IN THE TWENTIETH CENTURY
An Evening of Horror and Suspense has always been inspired by the golden age of radio. We set up the show as if it is the live broadcast of a vintage radio show, complete with an MC (Christopher Skyles, Your Host for the Evening), musical interludes (from the Hyde Sisters), and messages from our sponsors. The actors stand on stage and read from scripts while the SFX team produces live sound effects. The goal is to transport listeners back to the 1930s and 1940s, to a time before the Internet and television, when radio drama was the only kind of theater you could enjoy without leaving the comfort of your home.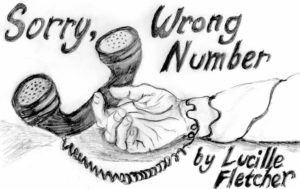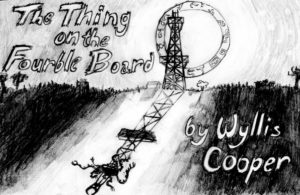 For the first few years, however, most of the stories we presented were adapted by members of the HPCP from classic short stories. In 2014, we started incorporating vintage radio dramas written for and broadcast by Golden Age radio shows like Suspense!, Quiet Please, Mystery in the Air, et al. This shift toward vintage radio plays culminated last year's thrilling and chilling Evening of Horror and Suspense 9, directed by Shonte Wesson and featuring a retrospective of Arch Oboler's work for the classic radio show Lights Out. EOHAS 10 goes back to our first experiments with vintage radio plays in EOHAS 3, with Lucille Fletcher's "Sorry, Wrong Number," first aired on Suspense! in 1943. "Sorry, Wrong Number" is a classic of the genre, in which a lonely woman accidentally overhears two men plotting a murder and spends the rest of the play on the telephone trying to get someone to stop it. EOHAS 3 also included Wyllis Cooper's famous "The Thing on the Fourble Board," about oil workers whose drilling uncovers a terrifying Lovecraftian horror. Mary McCarthy directs "The Thing on the Fourble Board" for EOHAS10, with Dusty Trellis reprising her iconic performance in the title role. EOHAS 3 is also represented here by Paul Baker's adaptation of Saki's humorous yet haunting "The Open Window."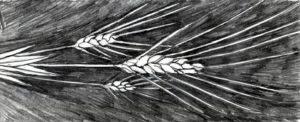 Ray Bradbury (1920-2012) is one of the founding figures of modern science fiction, and a longtime EOHAS favorite. For EOHAS 2, Bill Hohnke adapted Bradbury's haunting and bleak short story "The Scythe," in which a father at the end of his rope finds a house and a farm that seem like the answer to his family's prayers…until he realizes what it is that he's reaping. Paul Baker, who is also directing sound effects for EOHAS10, directs "The Scythe." Mary McCarthy sound effects director for EOHAS 4 and director of EOHAS 5, first introduced us to George Lefferts's 1950 radio adaptation of Ray Bradbury's delightfully disturbing "Zero Hour," set in a utopian near-future in which all the children are playing a game called "Invasion."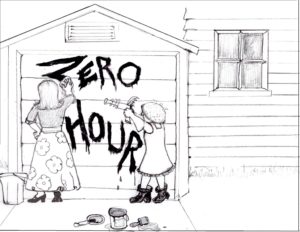 The other leading light of mid-century American fiction represented on Saturday's program is Shirley Jackson (1916-1965). The author of horror classics like We Have Always Lived in the Castle and The Haunting of Hill House, Jackson horrified readers of The New Yorker in 1948 with her dark short story "The Lottery," about a close-knit village in New England whose idyllic surface conceals a terrifying secret. Mary McCarthy directed Ernest Kinoy's 1951 radio adaptation of "The Lottery" (written for NBC Presents: Short Story) for EOHAS 5.
The evening will be enriched and enlivened by musical interludes from the Hyde Sisters, messages from our sponsors, and the golden voice of Chris Skyles as Your Host for the Evening. We invite you to join us for a reception following the show. Children who attend in costume receive a free Halloween goodie bag.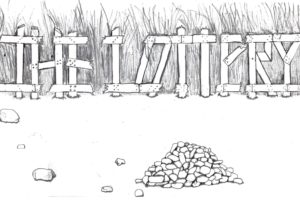 Come enjoy an evening of thrills, chills, and modernist angst, featuring performances by Sam Amenn, Sasha Austin-Schmidt, Barbara Barreno-Paschall, Tess Cameron, Ron Chafetz, Christopher Chwedyk, Liz Franson, Natasha Friedman, Zoe Harris, Elizabeth Horne, Elena Jimenez, Beth Johnson, Ryan Kacani, Ruth Kadanoff, Bobbie Lyons, Scott Malpass, Kimberly Marshall, Krithika Mohan, Bill Schmidt, Marissa Tranquilli, Dusty Trellis, Daniel Willens, and Chris Yonghian-Wilson!
Susan Harris