Let's get to know the new cast members who will bring She Kills Monsters to life on March 13-15 and 20-22!
Name: April Harkness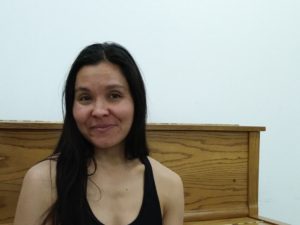 Age: 43
Background: This is my first acting role. I was a bird in a kindergarten play among 12 birds if that counts.
What inspired you to audition?
The poster was very violent and I have a military background. I thought playing and doing combat was right up my alley. My job in the military was to heal wounds not to inflict them.
What do you like about your character?
Kaliope is a dark elf. I like that she is trying to figure out human emotions. You must earn her respect if you're human. I was kind of like her when I came out of the military, relearning civilian ways after such an ordered environment.
If you could bring your character alive would you? Would you be friends?
Yes I would bring her to life. We would not be friends but have respect for each other as strong females. There's a sense of camaraderie Kaliope has with her fellow travelers. I felt the same thing in building camaraderie with fellow soldiers.
What's been your favorite experience thus far?
Learning the combat sequences is my favorite yet the most interesting part is the emotional sadness of the play. Many parts of the play made me cry. I'm a dark-hearted soul even as a real person, as April, so that was surprising.
Interview and Photo by MacZ Zurawski