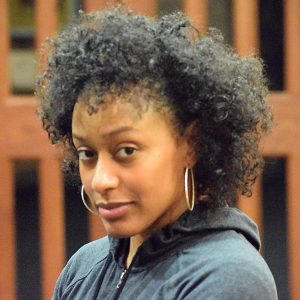 Leslie Browne (Bette Brennan) is a life long Hyde Parker taking on her first lead role in The Marriage of Bette and Boo. Leslie has had parts in the staged readings of HPCP's A Raisin in the Sun, The Bluest Eye, and Yeats' At the Hawk's Well/Dreaming of the Bones. As Mrs. Marchmont, she fanned her way through an Ideal Husband. Expecting a bundle of joy this summer herself, both Leslie and Bette are enjoying non-alcoholic fare these days — Leslie preferring peppermint tea (the doc said it's ok!) and Bette enjoying sparkling lemonade. Ya know, for the fizz.
---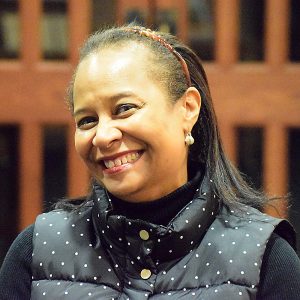 Cordelia Callaway (Margaret Brennan) is a Chicago native who grew up in the Burnside community with her parents, her brother, and her sister. As a child she wrote plays, prose, and poetry to pass the time between reading books and playing with friends. She is an avid fan of classic films, classic television, and the game show, Jeopardy. This is her first role with the Hyde Park Community Players and she is very grateful for the opportunity. Margaret's favorite drink is off-brand diet Cola because, like Margaret, it is simultaneously too sweet and has an awful aftertaste. Cordelia's favorite drink is San Pellegrino mineral water over ice with sliced lemon.
---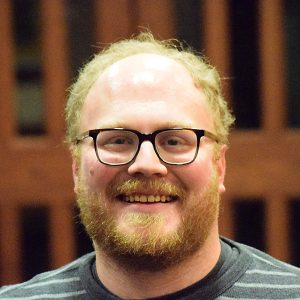 Dave Frederking (Boo Hudlocke) is proud to make his HPCP debut in The Marriage of Bette and Boo. Dave is a 2014 graduate of Columbia College, Chicago, where he received his B.A. in Theatre Arts after initially studying Sociology at Ithaca College (where he majored in doing theatre and minored in doing more theatre). Dave is an artistic associate of No Stakes Theatre Project where he recently performed in a staged reading of Self Defense or Death of Some Salesmen. Other credits include Vice Principal Panch in 25th Annual Putnam County Spelling Bee with Christopher Blum Productions and Drake in the podcast Pleasuretown. His favorite drink is Scotch and he's pretty certain that Boo likes anything that has been distilled or fermented. If vinegar could get you drunk, Boo would drink it.
---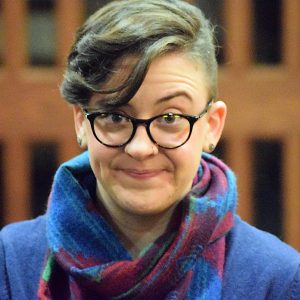 Leslie Halverson (Matt) is thrilled to be involved in yet another HPCP production. She has previously lent her acting and musical talents to numerous HPCP projects, including as Logainne Schwartzandgrubenierre in The 25th Annual Putnam County Spelling Bee, the Chaplain in The Lady's Not For Burning, the Boatswain in The Tempest, and many others. Leslie will direct Twelfth Night for the HPCP this summer. She currently works as an administrative assistant at a patent and trademark law firm, keeping her theatrical identity under wraps. She likes to think of herself as the Clark Kent of the ever dangerous theater/patent law world. She is overjoyed to be playing Matt in this wonderfully dysfunctional family! While Matt himself doesn't drink much, perhaps a glass of wine on special occasions, Leslie prefers to drink craft beer and/or whiskey drinks as often as possible.
---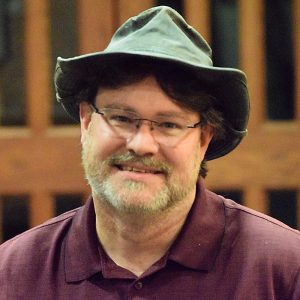 Adam Hammond (Paul Brennan) has been part of the Players for many years, working behind the scenes and in some acting roles. Highlights include his first acting role ever (Haemon in Antigone), conducting the orchestra for Musical of Musicals (the Musical!), and designing the set for An Ideal Husband. This is the first time he has a role in the same play as Laura MacGregor (he's her husband), which is a particular treat. Adam also leads @rtifice, an after school tech education organization and teaches at UChicago (Biophysics). When pressed, Adam's favorite drink is Templeton Rye — Paul Brennan is partial to a champagne cocktail.
---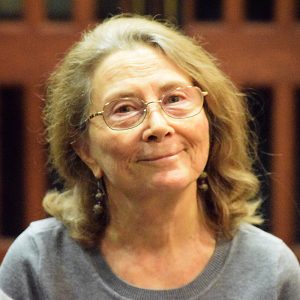 Ruth Kadanoff (Doctor, Photographer) is happy to be back on stage after a 38 year break from a flurry of community theater activity in 1971-1979 to practice medicine–even though she is playing a doctor. Past roles include the Old Woman in Good Woman of Szechuan at MIT, the doctor's wife in Harvey, a doctor in a play about euthanasia called You Never Knew My Father, and a whore in an adaptation of In The Poorhouse by Isaac Bashevis Singer in the U of C student theater in 1979.  Her favorite activity is attending theater and her favorite drink is hot chocolate, but the doctor's is Scotch on the rocks. Many of them.
---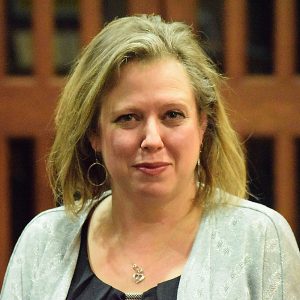 Laura MacGregor (Soot Hudlocke) got a chance to be one of Durang's fabulous moms before, as Amanda in For Whom the Southern Belle Tolls (a satire of Glass Menagerie.)  She's happy to be once again playing a Durang character, and to be directed by one of her favorite people. (And to be acting with her very favorite person!) Laura started acting as a teenager with a community theater in Kona, Hawaii, and went on to study theater and history in college.  Over the years, she has worked with many academic, professional and community theaters in Portland, OR, Ithaca, NY and here in Chicago.  Some of her favorite roles were Blanche DuBois, Olivia in Twelfth Night, and Lady Croom in Arcadia.  She has directed 3 plays for the HPCP mainstage, and produces our monthly staged reading series.  When she's not acting, Laura plays with children at the University of Chicago Family Resource Center, and does children's storytelling. Laura's favorite drink is a Seabreeze.  Soot alternates between the cooking sherry, and the dregs of whatever Karl leaves.
---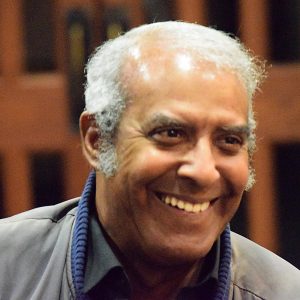 Chris Makel (Karl Hudlocke) is appearing in his second stage production for the Hyde Park Community Players. His first was as Capt. James in Arcadia. He also appeared in a staged reading involving genocide in Africa, and a Halloween show recreation of "The Birds." Chris is a graduate of Illinois State University. His very first role was as the French detective in Gentlemen Prefer Blondes. Various other roles include Sir Harry, Once Upon a Mattress; Officer O'Hara, Arsenic and Old Lace; Jud Fry, Oklahoma; Nick, Who's Afraid of Virginia Wolf; Bernard, The Boys in the Band; and numerous other productions. After a long absence from performing and the recent passing of his beloved wife, Pamela, Chris began auditioning for the Student Director class at Harold Washington College and has appeared in scene presentations of Long Day's Journey Into Night and Witness for the Prosecution.  Chris thanks his friends, family, and colleagues for their continued support and a special shoutout to Mr. and Mrs. Charley Wagner for their kindness and thoughtfulness.
---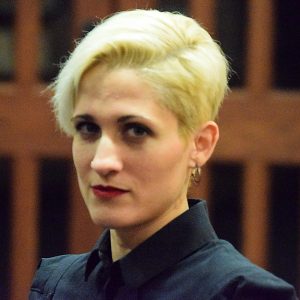 Maryse Meijer (Joan Brennan) is a writer and California native who loves snow. She is thrilled to be working with the Hyde Park Community Players. Previous roles include Lady Bracknell in The Importance of Being Earnest, Kate in The Taming of the Shrew, and Emily in The Marriage of Bette and Boo, all with Fresno High Theater. Her favorite drink is seltzer with cranberry juice; Joanie prefers Jack and Coke, with an emphasis on the Jack.
---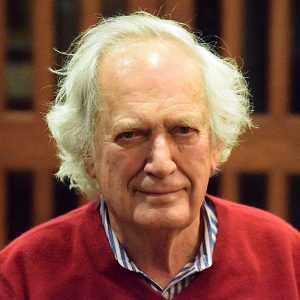 James Redfield (Father Donnally) is now emeritus after 55 years on the faculty, but still teaching. He learned what he knows of theater from his seven years as a member of The Last Stage, an independent company which formed in the late 50s on 51st St. The company was so small that its active members had to learn to do a bit of everything—acting, directing, a range of tech work, and in Redfield's case one original play. Fr. Donnally's favorite drink is communion wine. Redfield's is gin and bitters with ginger beer as a mixer.
---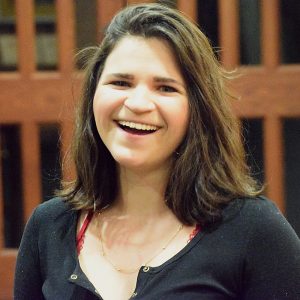 Amelia Snoblin (Emily Brennan) is delighted to be appearing in her sixth production with the Hyde Park Community Players. If you've seen her on stage before, you've probably heard her singing, but she's thankful to be sticking to acting—and pretend cello playing—in this production. By day, Amelia is a freelance writer and web designer, with a graduate degree from the University of Chicago. By night, she sings with the Rockefeller Chapel Choir, reads 20th century novels, and eats massive quantities of pickles at Jimmy's. By the way, Emily's favorite drink is warm milk. Amelia's favorite drink is a gin martini, very dirty.
---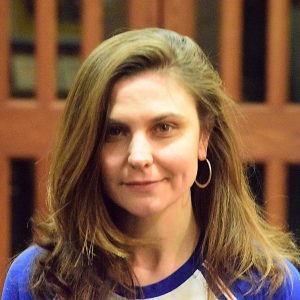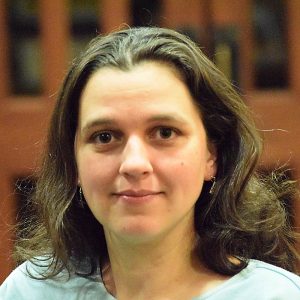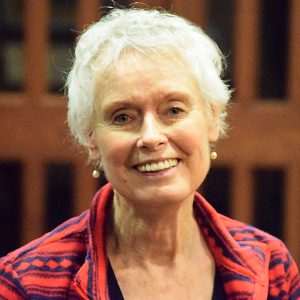 Photos by Shonte Wesson