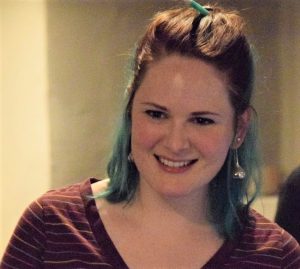 Today we meet Kate Southern, who plays Viola's twin brother Sebastian. Kate is from Raleigh, North Carolina. She attended Brandeis University and Emory University, and now works for Whole Foods.
Q. So, how did you find out about Twelfth Night, and what made you decide to audition for it?
KATE: I get the Hyde Park Herald in my email, and there was a short blurb about the auditions. I used to love acting, but I haven't performed for about 10 years! I've always had an affinity for Shakespeare, and I thought it would be a fun, low-pressure way to get back into acting.
Q. Tell me a little bit about your experiences with acting before your 10-year hiatus. What are some of your favorite shows or projects?
KATE: I started as a kid with The Burning Rice Fields children's opera when I was 5. I acted in shows all throughout school. Favorites include: both Puck and Hermia in A Midsummer Night's Dream, La Madre in Blood Wedding, Thomasina in Arcadia, and Ruthie Taylor in "Batboy: The Musical."
I majored in theater in undergrad, but I started getting more involved in design and went on to pursue an MFA in scenic design, so I kind of stopped acting because I was busy with design.
Q. And are you still doing scenic design? (Asking for a friend.)
KATE: It's been a while, but it's still something I'm interested in! After grad school I found it pretty difficult to make a living just doing design. It was always a ton of work for little to no pay, and I found it more stressful than satisfying. When I moved to Chicago I did some over-hire paint work but I've had a hard time making the schedule work with my day job.
Q. Shakespeare doesn't pay a whole lot of attention to Sebastian, besides establishing that he's basically a good guy. What are some of the things you're discovering about Sebastian during the rehearsal process?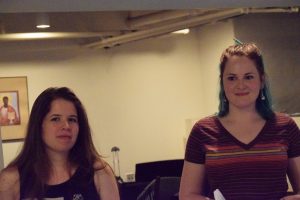 KATE: I was just saying yesterday that Sebastian and Antonio need a spinoff! Their relationship is adorable and ambiguous, and I wish we could explore that more thoroughly. Sebastian is very much go with the flow–he cares deeply for Antonio, but when Olivia mistakes him for Cesario, he's like: "oh…okay." I think he is open to the different forms that love can take, and he values a fair mind over a fair visage. I am finding similarities between myself and my character when I say, I don't think he is the kind of person who would label himself, but an outsider might see him as bi or pan.
Q. I think people would watch that spinoff. Antonio is so passionate about Sebastian, who he can't have known very long…but then there's a lot of that in this play. What do you think is going through Sebastian's mind as he's marrying Olivia?
KATE: Well we decided that at first, Sebastian is convinced that he's dreaming, because the alternative would be that he's mad. So he goes with the dreaming thing—and follows Olivia to the altar. And then I think so much happens so fast! He gets in a fight (which we don't see) and then he's like , "oh crap, I'm married now and I just beat up my new wife's kinsman" and that goes against his sense of honor/good guy thing. So he apologizes–but immediately is distracted by finding Antonio again and then immediately distracted by finding his dead sister. So I think he really doesn't give himself time to process what's happening and by the time he does, it's already happened. And in the end, Olivia barely pays attention to him at all, so the whole time I'm thinking that Antonio and Sebastian should just sneak away…but ya know, "honor." It's tough.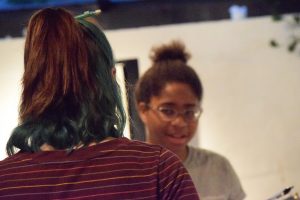 Q. Is the fact that Sebastian's played by a woman going to be something you play around with?
KATE: Well, so far, not intentionally. One of my lines, "I am yet so near the manners of my mother," leads me to believe that Sebastian is aware of his feminine characteristics, and embraces them. Maybe he's non-binary. But I haven't made any conscious decisions to change my voice or mannerisms to be more masculine. But that's definitely something to think about. I don't think of myself as particularly dainty/feminine/graceful so I think it's not too much of a stretch for me to embody someone who is male with some feminine characteristics.
Q. All of the actors I've talked to so far have had very interesting things to say about gender in this production. I'm really looking forward to seeing how all this works out in performance. Before we wrap up, is there anything else you would like people to know about you? Favorite scenic designer? Favorite thing about Raleigh? Favorite flavor of ice cream?
KATE: Those are tough questions! I treasure my Jo Mielziner book because it's beautiful but I can't say I have a favorite scenic designer. My favorite thing about Raleigh would have to be my family– I don't live there and haven't been home in years. They are the only reason to go. And I honestly love vanilla ice cream because of its versatility. It makes everything better: fruit, pie, brownies, cookies. I get personally offended when people use the word "vanilla" as an insult to mean "boring." Vanilla is delicious. Shut your mouth. But also goat cheese ice cream if you can find it! Savory ice cream is amazing. And I'm obsessed with cheese.
Susan Harris with Kate Southern