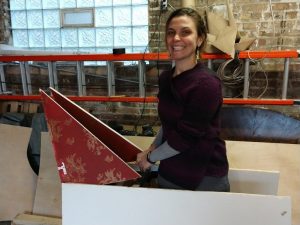 Today we introduce Corinna Christman, the producer of Rashomon, who also plays The Wife. Corinna is a founding member of the HPCP and is currently serving as its President. Corinna has been involved in every mainstage HPCP show since 2009. Among her directing credits are Picasso at the Lapin Agile, Desire, Desire, Desire…and More Desire, The 25th Annual Putnam County Spelling Bee, and The Marriage of Bette and Boo. Corinna will direct our outdoor Shakespeare production of As You Like It this summer. 
Q. This is now your second season as president of the HPCP. What are some of the things you've learned about this community theater business since taking on that role?
Corinna: Community theater is a beautiful thing!  It is great to be a part of a group who is excited to create art for the fun and love of it.  It is a constant puzzle to figure out how to include everyone in the best way possible.  We are such a diverse group in terms of talent, and I learn about more individual talent every day.  I have also learned that delegation= success.  If you ask, people will say yes!  And if they don't, I'll learn another great way to say no, which is always helpful.
Q. So, let me thank you for taking over the role of the Wife after Kristy had to withdraw from the show; we're all really grateful that you were willing and able to do that. How do you approach the challenge of playing, essentially, four different versions of the same character?
Corinna: The wife doesn't make a lot of sense.  I kind of think of myself as a blank screen, with people's images and perceptions imposed on me.  It's a little like an improv game: "now you're a Disney princess," "now you're Cruella de Vil," "now you're a little girl," "now you're a noble fighter…" And I say, "yes, let's!"
Q. What do you think the Wife is like when she's alone? Is she more than what the men believe about her? Does she have her own truth, and if so, what is it?
Corinna: I think the wife is a survivor in a shitty world.  She was told by society that advancing to the wife of a samurai would be wonderful, and she comes to realize that this is just another "stupid life."
When she is alone, I think she is a dreamer.  She has a big imagination.  Her real life will never live up to the potential world in her mind.  Her fantasy world is her coping mechanism.
Q. The short stories on which Rashomon is based were published in 1915 and 1922. So from the beginning, this has been a story that uses a medieval setting to communicate something to a modern audience. Do you think the Wife's story has anything to add to the national conversation we're currently having about sexual harassment and women's autonomy more generally?
Corinna: Yes, definitely.  It is so relevant in so many ways.  The bandit justifies everything he does by something he sees in the wife's face, implying that she is "asking for it." Everything that happens to her is because of her appearance, so she never gets credit for her thoughts or actions.  She is pushed around in a men's world, and she is a major inconvenience to them because she actually speaks up and asserts herself.
Q. After you started rehearsing the Wife, the actor originally cast as the Husband withdrew. So you've rehearsed this part with two different husbands, one of whom is your actual husband. Do you ever just sort of sit there wondering at the meta-ness of it all? What's it like having been thrust by fate into playing a husband and wife team?
Corinna: Hahaha.  I think this is the first time we've ever played husband and wife, and it is a dysfunctional relationship!  Besides being my husband, Bill is my director, and is very particular.  I have to separate him in my mind- real husband, fake samurai husband, exacting director.  I'm only fed up with two of them.
Q. Is there anything else you want people to know about your experience with Rashomon?
Corinna: I ride an origami horse!  Yee haw.
Corinna Christman with Susan Harris