Rashomon opens this coming Friday. (Buy tickets!) Our final set build was, accordingly this weekend. It was also partly a prop build, because there were a few things still left to do, the main ones being the horse and the bonfire.
Horse? I hear you cry.
Yes. One of the bigger challenges presented by this show is the fact that in their first entrance, the samurai is leading the wife, who is mounted on a white horse. In the 1959 Broadway production, they had an actual live white horse. The script still calls for a live horse, acknowledging that if a white horse is unavailable, some other horse may be substituted. In the very back, the script grudgingly admits that a lot of companies won't necessarily have the resources to bring in a live horse, and so they may choose to eliminate the horse altogether, and in that case, they should change x phrase on page y and so on.
We cannot bring a live horse into the University Church, any more than we can bring live flame into it. And yet, in addition to the horse, there is also a "meagre bonfire" on stage, around which the three characters in the frame story gather as they miserably attempt to dry and warm themselves while the rain falls down in sheets outside. In rehearsal, this bonfire has been represented by a red folder laid flat on the floor. For performance, something a bit more evocative is required.
The horse has been the subject of much discussion. It isn't, strictly speaking, necessary. But when you come right down to it, as far as physical objects on stage go, almost nothing is actually necessary. I just saw the Greenhouse Theater production of Sophie Treadwell's Machinal, in which there were only two props, everything else being suggested in one way or another by the actors' movements. Yeats was very pleased with himself for almost entirely eliminating props from his dance plays. One might argue that realism demands props in a way that other modes of production don't; but one might also point out that it was one of Stanislavski's pet pedagogical methods to make his actors improvise and rehearse without props. He believed that if the actor was really in it, the audience would 'see' the objects whether they were there or not. One might then argue that Stanislavski was nuts, and anyway his productions were positively cluttered with material objects, and one would have a point, but my point is that ultimately any stage prop's function is at least 90% aesthetic. As part of the play's aesthetic, the horse is no more or no less necessary than any other prop.
Except for the swords. Those are pretty necessary.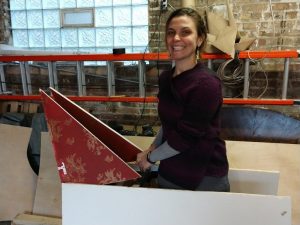 Anyway, so given that Bill wanted the horse, which is an important element of the way in which the bandit's story romanticizes the Wife, the next problem was: how do we approximate a horse with the resources available to us and have it not look stupid? Various suggestions were bandied about, but eventually we settled on an idea that John suggested, probably not intending to be taken seriously, at rehearsal: make it an origami horse. I realized as soon as he said it that this was how I had always really imagined this horse being, in my mind. I mean, sure, I was initially thinking of the puppets from War Horse. But let's face it, no attempt we made at approximating that was ever going to come out well. The best we could hope for was something that looked cool, even though it inevitably would not look much like an actual horse. Origami would fit that bill, and in that it evokes both fragility and complexity is also works for the way Tajomaru's narration evokes his first sight of her, as a mysterious and ephemeral vision that inspires him to learn more. Adam took on the job of realizing this concept, and spent a fair amount of time on it yesterday, with Paul recruited to help with the painting.
The horse construction was ongoing when I left, but we had solved the problem of the medium's rattle. I spent a lot of time trying to recreate an artifact I saw while searching for Heian period bells; but despite the amount of work I put into it, at the end of the day it was basically some jingle bells on a stick. Adam, meanwhile, dutifully made the priest staff that I asked him to make, based on some photos of Heian artifacts I had found. Adam bought an arc welder to make the frames for An Ideal Husband and I figured he would enjoy the chance to use it. He did in fact enjoy it, but pointed out yesterday that this seems awfully elaborate for a priest that was giving up his vocation and running away; what, did he loot the temple before he took off? I said, well, in fact, in the film the priest just uses a long piece of bamboo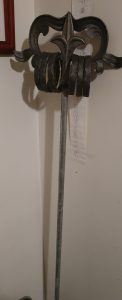 and I did buy such a bamboo staff at Michael's with all the other stuff. Jackie, who had come by to do some fittings for the men (she's doing the men's costumes; Mary McCarthy is doing the women's), pointed out that this kind of staff is actually associated with warding off/summoning spirits and demons, so we thought, great, let's use this for the medium. Two problems solved! Having rehearsed with Adam's staff for a bit, I can say it's much more helpful to the actor than the bell stick was.
The actor is me now, because Bobbie Lyons unfortunately had a fall last week and had to withdraw from the role. This is really sad, because Bobbie was doing a great job with the part and seemed to be really enjoying it. At least by that point, Bill was pretty used to rolling with the punches. Since the Mother and the Medium each appear only once, and each in a different act, it's easy enough to double them and indeed one wonders if it was written with that in mind. At any rate, I'm the medium now, and I will say this has really given me a new appreciation for how much of a difference it can make to have the right prop. All I have to do now is start lifting weights.
So, all this is to say that I spent most of yesterday working on the "meagre bonfire." Bill wanted it to glow, something I initially found a little daunting; but it turns out that in October, YouTube is full of tutorials about how to make a glowing prop fire for your Halloween gathering. Unfortunately most of these designs involve lights that have to be plugged in, and I knew we were not going to want to mess with any of that. However, you can get electric tealights that flicker–I know this because we eat at Medici a lot–and I figured we could use those and cover them with lighting gels which would project a proper diffuse glow. Bill said they had some old gels at home. Well, come the day, the gels were not to be found, but Bill did bring in the bag of rubble he had promised me, and I had brought along some fabric that had been part of a Halloween gift at some point that I thought might work. I got some waste wood from Adam, including a couple table legs he said he didn't need any more, and I stacked them in a pyramid shape and hotglued them all together, glued them to a piece of cardboard, and glued the rubble around it. I turned on the tealights, put them underneath, draped the gauzy thing over them, and VOILA! BONFIRE!
I was so pleased with how it turned out. It really looked like a bonfire. In fact, we put the lights low and went and sat far away from it and just watched it. It was beautiful. And then, after the hotglue was dry, I picked it up to try to move it.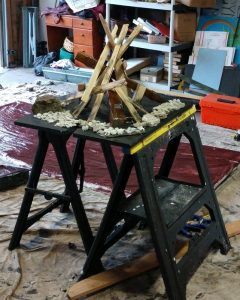 And the entire thing collapsed.
The sole and only silver lining of the Presidential election of 2016 is that I now face most setbacks with relative equanimity. It's as if I no longer have enough anxiety left over for smaller disasters. You can ask Liza; not even a week after the election, my laptop was stolen out of my car, and I did not freak out. She was very worried about me. But in that case, as in this, I just said, well, we begin again.
Adam and Bill helped me out by finding a piece of plywood and screwing the table legs together so we weren't relying on glue any more. My glue gun completely stopped functioning, so I resorted to wood glue for the rubble and the other pieces. And we rebuilt it, and here it is. I look forward to 'lighting' it at the University Church tomorrow.
Susan Harris