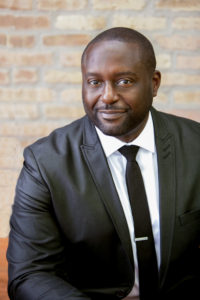 Catch up with James Allen – Pontius Pilate
James has previously appeared with HPCP as Caliban in The Tempest, and was in Clybourne Park, and The Lady is Not For Burning.
Hi James, it's been a while! It's good to see you. What have you been up to?
Since last time I did something with the Players, I did a pretty interesting play with the Factory Theater in Rogers Park. I was an understudy for Detective Hughes in The Darkness Before Dawn. It was written by Manny Tamayo, a Jeffrey award winning playwright. It was interesting working with that piece. This was the first time I did a play and got paid, so I was pretty excited about that.
What made you interested in auditioning for The Last Days of Judas Iscariot?
My wife had asked me about doing stuff in Hyde Park again, and I had seen something on Facebook about auditions, which piqued my interest. It's a really out of the box piece, really crazy. It's a really interesting piece.
You have a daughter now, congratulations! How has that changed things?
Her name is Zelaura, she's about to be 6 months. I learned about that play (The Darkness Before Dawn) when she was maybe a month old. It was a good opportunity so my wife urged me to keep going for it, but it was tough, and I felt bad! It was a lot of rehearsals, a lot of time! It would be Sunday and I would be getting home at 10-10:30 at night, and she's been with the baby all those hours. She's really a champion. She's been really supportive. This show isn't as time constraining as the last one.
Is this your first time playing a historical character?
Technically no, I do a bit of acting at church and they are all historical/Biblical characters. That's how I got involved with the Players, through Vanessa Ellis at church. I was the chairperson of the Adult Drama Ministry.
Have you ever played Pilate before?
No, but I've been in scenes with Pilate. I've done some scenes in the Garden of Gethsemane, but I've always played the Roman soldier. I've played the characters around Pilate. It's cool, having played it at church and then seeing this rendition of it, that's been the fun part of getting into this character. There's a lot more 'motherfuckers' in this than I've been throwing before.
Can I print that?
(laughs) Sure! When I first got the script and started reading it to my wife, she was like, are you comfortable doing that? I am just going to delve into the character, it's just a role, it's not how I feel, but I'm comfortable speaking the lines. So that's the furthest I've had to stretch for the character.
Tell me more about your paid gig at the Factory Theater?
I was an understudy, and we got to do an understudy performance. I felt good about it, and we get to the night of that performance, and I do my part and I come off the stage and I'm like Damn, I forgot my biggest part! The funniest part that I've been working on all this time, and I didn't say it. I was kicking myself so much. It made me think about how do people feel in the Olympics. You train 4 years and then you fall and it's over.
So the good thing about picking up a part with this, I get another chance. I've been using spaced out learning to memorize. I read it one time through and put it down for a while. I like practicing different learning methods.
Is there anything else you want to tell us about?
I did some Extra work on Empire. It was a couple days, it was so awesome to actually see it work. I got to see some really good actors do their craft, but I really remember Terrence Howard and Taraji P Henson. They are the Oscar winners and you never saw them pull out their lines during the day. They were prepared hard core.
The scene I was in had Phylicia Rashad in it. Watching her, it was like hearing a song play back. She nailed it every time. Seeing people do it like that, that's just good.
I look forward to seeing you nail your monologue in Judas! Thanks for chatting with me.