Let's get to know the new cast members who will bring She Kills Monsters to life on March 13-15 and 20-22!
Name: Imogen James-Downie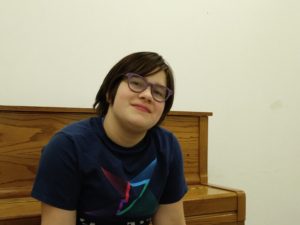 Age: 12
Background: Student at Kenwood Academy Academic Center
What inspired you to audition?
I'm really into D and D. I've been playing for 7 years. I saw this bright yellow poster and I'm in Drama 1 so I'll try it. All the pieces fit for me to try to make a D and D campaign come alive.
Do you have prior theater experience?
School plays like A Midsummer Night's Dream. I'm currently a drama student at school.
What do you like about your character?
She is the great mage Steve. He's very funny, gregarious. She's the classic person who doesn't know how to play D and D. She just rolls with it. I feel I was Steve at one point but surpassing that has been nice to develop.
If you could bring your character alive would you? Would you be friends?
I would bring Steve alive but he would get killed instantly. There's only so much a DM can do for a person like Steve.
What's been your favorite experience thus far?
My favorite experience has been learning how to fall.  Stunts and physical actions have been interesting to learn. I also get to die a bunch of times which people don't do everyday.
Interview and Photo by MacZ Zurawski